Ti West wrote and directed The Innkeepers while filming his last movie, The House of the Devil. Even though he knew he was in a house that served as a film set, West felt haunted. Audiences should thank whatever spooked the filmmaker as The Innkeepers is the rare haunted house movie that doesn't hit you over the head with its terror. It is slow moving, boiling ever so slowly... until you find yourself screaming.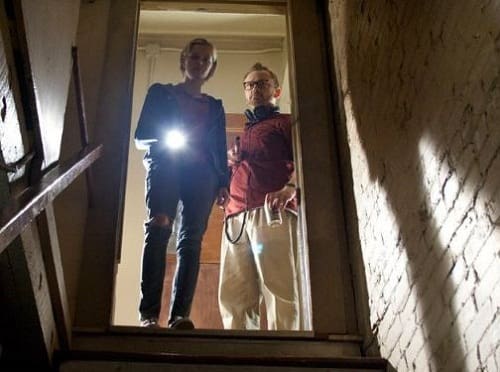 The Yankee Peddler Inn is closing its doors for good after serving a small New England town for centuries.
Sara Paxton
and Pat Healy are Claire and Luke, the two laborers stuck working the front desk all weekend during the hotel's final days. Come Sunday, the Inn will shut its doors. Both are heavily into the supernatural and from the opening moments it becomes clear, they believe their Inn is haunted. Before the weekend is up, they hope to document that fact with audio or video… they'll take what they can get.
Adding fuel to their fire is the longstanding legend that a woman killed herself in one of the hotel rooms after her fiance left her at the altar over 100 years ago. When Claire begins to be convinced she sees the jilted woman's ghost,
The Innkeepers
amps up its spookiness in the most subtle of ways.
Meanwhile, a washed-up Hollywood actress (Kelly McGillis) checks in for the weekend for some rest and relaxation. She too is shrouded in mystery and asks to be left alone. But, Claire
has
to let her know she is a huge fan. Their first meeting begins nicely, and then turns eerie. What does McGillis' Leanne have to do with this supposedly haunted Inn? She now moonlights as a spiritual guru and can sense when something is spiritually awry.
West masterfully weaves his web of mystery as The Innkeepers is as much a thriller as it is a haunted house story. The director has firm control over this genre and the result of his efforts is a surprisingly effective film that works throughout without a single hiccup of pacing problems or plot lag that some other horror movies can suffer under.

What makes this movie, above all else, is the show put on by Paxton. The actress truly comes into her own in a performance that is concurrently electric and reserved, compelling and compassionate. The audience feels for Paxton's Claire as this world she lives in begins to have the walls close in on her.