The Muppets Exclusive: Bret McKenzie on Oscar Nod, Music and Movies
by Joel D Amos at . Comments
Bret McKenzie was in his native New Zealand when he got the call that he was an Oscar nominee, he tells Movie Fanatic in our exclusive interview. McKenzie was honored for his work penning the song Man or Muppet from Jason Segel's The Muppets. His initial reaction might surprise you.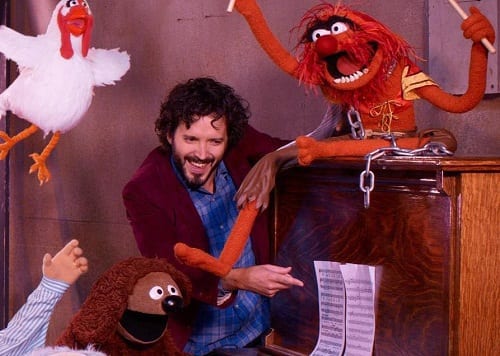 "The first thing that freaks me out is I thought, 'Oh my God, what if I have to get up on that stage? This is going to be stressful,'" he said and laughed. "But it's really exciting. The whole team is really proud of the film. Comedies don't get nominated for awards really so it's great that
The Muppets
managed to sneak through the system and be recognized. And no, I couldn't get back to sleep!"
McKenzie is widely known as part of the magical team that produces
The Flight of the Conchords
. He keenly understands the world of music and its relationship to the visual, whether TV or film. So when he heard about his Oscar nomination, the songwriter in him immediately thought about the heady company that he now keeps. "It's mind-blowing. I'm concerned about the next song I have to write," McKenzie said with a smile. "I'm going to sit there looking at it and be like, 'I'm an Academy Award nominee. I better write a good song [
laughs
]."
It is the day after the annual Academy Award nominee luncheon and we're sitting at the Disney offices with McKenzie, and the entire experience is clearly still sinking in with the first time Oscar nominee. "You really get a sense what a great history the Academy has. It is amazing to be on that list. Yesterday, I was sitting at a table with Meryl Streep! I couldn't even talk to her. It's very mind-blowing. Being from New Zealand, growing up, Hollywood was even further away than for Americans. It's not real. So now, I've started working here and it feels like I've been welcomed to the movie world."
When McKenzie sat down to craft the song Man or Muppet, Segel and co-writer Nick Stoller's (check out our exclusive interview with him) script was complete and they just needed to fill in the songs. "They already had a lot of song demos. It's similar to the way we did Conchords with James (Bobin, The Muppets director and fellow Conchord). There's a storyboard with cards, and then blue cards for the songs," McKenzie remembered.

Place holders were there for two songs already, Everything's Great (the film's opening number) and Man or Muppet, with a brief description of what filmmakers wanted. "Man or Muppet needed to be a song with Gary (Segel) and Walter singing about whether they're a man or a Muppet. James had an idea for the reflections to appear. There were demos that were good but they weren't quite hitting the mixture of sincerity and comedy that we needed. That's the sort of style that James and I kind of like. So then I started working away and I knew there needed to be this sort of echo-y moment where the characters sing back."

In the film, Segel and his Muppet friend Walter are joined by their Muppet-human counterparts -- Segel as a Muppet and Big Bang Theory star Jim Parsons as Walter in human form. "James did an amazing video for it. The picture and the music really work together in that song. And that's why it's so successful."

When the new Oscar nominee first saw the scene we describe above, what struck him the most was the star power of the main man in The Muppets. "What a great performance Jason Segel did. It's interesting that was the first thing I felt. It was one of those songs where it flowed very smoothly. The whole process from the beginning to the final edit, there were very little changes. Each thing just fell into place," he said. "Often in filmmaking, from my experience, there are a lot of cuts, chops and trying to fix things."
Man or Muppet was meant to be the moment on which the entire film pivoted. McKenzie had crafted a song that needed no alternations; it went right into the film. "The first day we recorded it with Jason, he did an amazing job. He pretty much did the vocal take that we used in the film! That song had that sort of lucky, slightly magical feeling from the beginning," McKenzie said.

Most men can relate to that moment where we are forced to grow up, or at least accept that younger follies no longer apply. "The thing that struck me was Jason -- he just went really deep on screen. That's what's hilarious about it. I love watching the audience's reaction -- because in the film, he's almost childlike and playful. But, when he gets to this song, suddenly there's a lot more going on. It's a real turning moment."
Lastly, we're alone with McKenzie and we have to ask: Any news on a Flight of the Conchords movie? "You bet. We're working on a slew of ideas right now," McKenzie admitted. Color us thrilled!