From its ad campaigns, The Vow has its audience thinking Nicholas Sparks. The trailers state, "Starring The Notebook's Rachel McAdams and Dear John's Channing Tatum." That does not help things. Not to knock Sparks' movies, but The Vow stands purely on its own and is a surprisingly sweet and tender romance.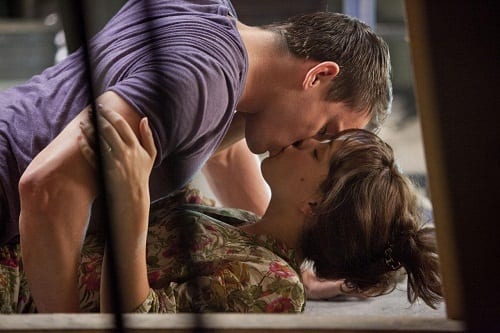 Tatum is Leo and he has been married to McAdams' Paige for a few short months. One night the two get a little amorous in their car and fate slams the couple into chaos in the form of a massive automobile accident. Paige awakes in the hospital, completely unaware who Leo is and why he is standing at her bedside. In fact, she thinks he is her doctor.
Based on a true story of a couple who dealt with similar challenges, the realness of
The Vow
is probably what sets it apart from other romance films of late.
Thankfully, the film never drifts into predictability. There is no Hollywood ending that one would expect. At a certain point in the film the audience realizes that there is no way to get from where we are in the story to that sweeping, hearts-pounding romantic finish. Don't get us wrong, the ending is terrific and executed effectively, it's just not what would be expected… and that is a very good thing.

Tatum and McAdams
are electric. Largely, that is why the film works. Both keenly know their romance movie and prove what fine actors they are once again by never straying from the playbook of the genre. Because of the true story aspect, it is easy to see how McAdams and Tatum brought their A-game. It is an inspiring tale of the power of love and in the hands of
The Vow's
leads, there is no denying the collective pull for these two to work it out.
Screenwriters Jason Katims, Abby Kohn, Marc Silverstein and Michael Sucsy have taken a story by Stuart Sender and sent a breath of fresh air into the stale romantic film world. It's been a while since there was a celebrated film of its ilk and The Vow is here to announce a new one to treasure.
Jessica Lange (American Horror Story) and Sam Neill (Alcatraz) shine as McAdams' parents, but often seem a bit cardboard cut-out instead of fully flushed-out characters. That is possibly the only fault we can find with this sweeping romance that finds its inspiration in the smallest of places: Two beating hearts.