Channing Tatum and Rachel McAdams charmed audiences over the weekend in The Vow to the tune of $41 million, taking first at the box office. The duo play Paige and Leo, newlyweds who must confront the most serious of challenges after a car accident leaves Paige without her memory of their entire relationship.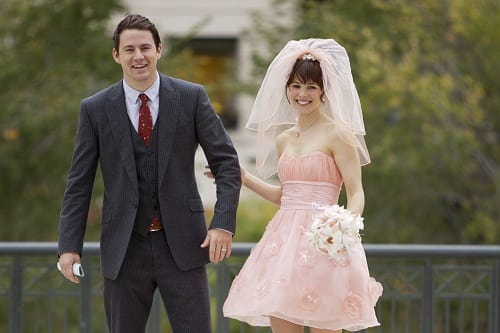 The film is sweepingly romantic and should score hugely with Valentine's Day couples seeking a perfect date movie. As it is so dreamy, there are quite a few swoon-worthy lines from the film that we bring you in our best of
The Vow quotes
.
Paige:
I vow to live within the warmth of your heart. |
permalink
Leo:
I vow to love you and no matter what challenges might carry us apart, we will always find a way back to each other. I promise to never forget that this is a once in a lifetime love. |
permalink
Leo:
Life's all about moments of impact and how they change our lives forever. But what if one day, you could no longer remember any of them? |
permalink
Leo:
Hey, you... you know who I am, right?
Paige:
Yeah.
Leo:
Okay, good.
Paige:
You're my doctor. |
permalink
Paige:
I hope one day I can love the way that you love me. |
permalink
Leo:
How do you look at the one you love and tell yourself it is time to walk away? |
permalink
Paige:
Coming home to a life I don't know - that's a lot to take in.
Leo:
We'll figure this out together. |
permalink
Leo:
I need to make my wife fall in love with me again. |
permalink
Leo:
I will always love you but the fact is you don't know me and I'm just a stranger. |
permalink