Rachel McAdams and Channing Tatum scored much more than chemistry with their romance film The Vow, they electrified audiences to the tune of $41.7 million. The record-breaking weekend take astonished movie experts and spoke to the power of romance.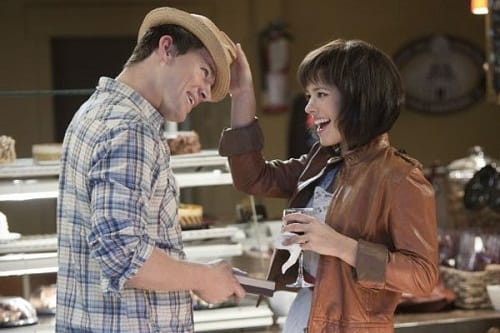 For the first time since December 2008 four movies debuted in one weekend, all making more than $20 million. Wonder if that Hollywood box office drought of 2011 is officially over? Time will tell. But for now, Hollywood is relishing in the news that
Safe House
,
Journey 2: The Mysterious Island
and
The Phantom Menace
all debuted on Friday and each broke the coveted $20 million mark by the end of the weekend.
The result was the biggest February non-holiday weekend… ever!
The Vow
not only helped set the record, it scored the highest debut for a Sony Screen Gems film in history. The previous record holder for Screen Gems also starred Tatum, and that was
Dear John
. Guess audiences like Tatum in those romantic roles.
Denzel Washington and Ryan Reynolds didn't do too badly with their cinematic chemistry either. The thriller
Safe House
opened to $39.3 million to land in second place. It is the second best opening film ever for Washington, behind 2007's
American Gangster
.
Journey 2
, the sequel to
Journey to the Center of the Earth
, exceeded expectations with its third place finish. The Dwayne Johnson starrer banked $27.6 million. The first film debuted in 2008 with $21 million. That is exactly what the film's studio, Universal, loves… when a sequel outperforms the original.
The film that still did well, but not as well as they would have liked is
The Phantom Menace
in 3D. The George Lucas saga's "first" chapter earned $23 million in its debut week for a fourth place finish.
Box office top 10:
1.
The Vow
, $41.7 million
2.
Safe House
, $39.3 million
3.
Journey 2: The Mysterious Island
, $27.55 million
4.
Star Wars: Episode I: The Phantom Menace
, $23 million
5.
Chronicle
, $12.3 million
6.
The Woman in Black
, $10.3 million
7.
The Grey
, $5.1 million
8.
Big Miracle
, $3.9 million
9.
The Descendants
, $3.5 million
10.
Underworld Awakening
, $2.5 million