Audiences that want to see Chris Pine battle his fellow CIA agent/BFF Tom Hardy for the affection of Reese Witherspoon will have to wait until February 17. The film was originally slated to be released on that day, but was moved up to premiere on Valentine's Day, February 14. Now Fox has reversed that decision and will open the film on its original release date of February 17. But, for those lovebirds who adore a little action with their romance, 20th Century Fox will have a special Valentine's Day showing of the film in just over 2,000 theaters.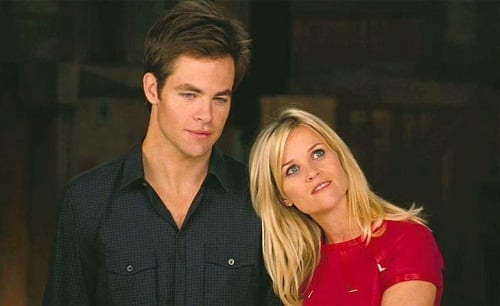 Some pundits believe that the release date reversal has to do with the fact that the studio does not want their film competing with the romantic slam dunk that is
The Vow
. That
Rachel McAdams and Channing Tatum
film that looks like a Nicholas Sparks book, but isn't, lands in theaters February 10 and is the only true romance movie at the Cineplex for the annual day that celebrates love.
Movie Fanatic believes that Fox moved the film back to its original date because it wanted the spotlight by itself. It's not the most romantic movie and there was no point in having it open wide on Valentine's Day.
The Vow
is immensely romantic and should run away with the holiday's box office.
This Means War
has a bit of romance, but is more of a comedy-action-thriller in the vein of
Mr. and Mrs. Smith
-- not traditional fare for couples seeking a romantic night out. But for those who think it is, there are over 2,000 theaters for you to see it on the day that celebrates St. Valentine.