Reese Witherspoon has a tough choice in This Means War. After a period where she had a lack of good dates, she now has two handsome suitors, Chris Pine and Tom Hardy. She can't decide between them and their exploits are not helping her find truthful true love. You see, the two men are CIA agents and the best of friends.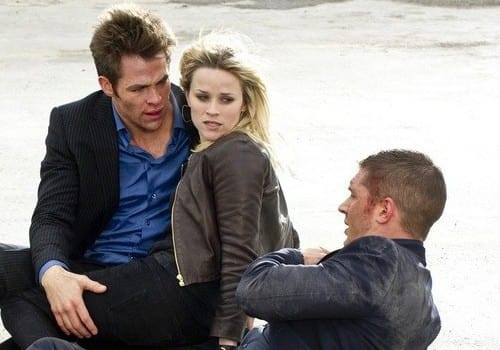 Pine and Hardy decide to let the best man win. Only thing is they use their spy agency resources to tilt the love game in their favor. Although it takes a little while to get there, once the sparks fly,
This Means War
becomes electric and fantastical.
The key ingredient to this cinematic stew of action, thrills, romance and comedy is the chemistry between two of the film's leads. We're talking about Hardy and Pine. The actors have a field day with the folly. Although the film does not warrant a sequel, we would love to see these two on screen dishing out their bodacious banter in another film.
Director McG uses his resources well. He's got three talented leads and a totally game supporting player in Chelsea Handler as Witherspoon's BFF (check out our
interview with the two
). He manages to effectively and efficiently walk a tightrope of movie mash-ups that includes romantic comedies, action films, thrillers, secret agent tales and that all-out-fun film that reminds us why we go to the movies.
Some scoffed at the casting of
Witherspoon
. Pundits seemed to have been under the impression that a "younger" actress should have been cast. The actress silents her haters by turning in a performance that is playful, coy and all woman who is head over heels in love with two men -- and
both
yearn for her heart. She nails it in terms of emitting a presence of a female player who thinks she holds all the cards. In fact, the deck is stacked by two suitors who know her deepest wants, desires and secrets.
Moving at a rapid pace is something the film does well. It hits every beat with just the right amount of flair that infuses a serious fun factor throughout. Is This Means War one of the best romantic thrillers we've seen in years? Maybe not, but the film resonates. The love triangle, an oft failed at cinematic endeavor, is explosive in this film. Toss in one of the most delightful supporting debuts in a while with Handler and the McG film stew of genres simmers.