This Means War: Reese Witherspoon and Chelsea Handler Talk Friendship Follies
by Joel D Amos at . Comments
When friends play friends onscreen, oftentimes the chemistry makes the movie. Such is the case with Chelsea Handler and Reese Witherspoon in This Means War. The two are sitting at the Four Seasons Beverly Hills to bask in their friendship glow and talk about their new action-thriller-romantic comedy.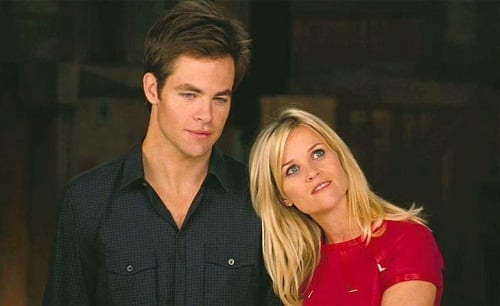 The pair have known each other for years, but really bonded over the film. "We met at breakfast and she asked if I wanted to do this. And of course I did because Reese always makes really good decisions with movies," Handler said. Witherspoon has appeared frequently on the comedienne's show and spin-off series. "I figured if I was going to do one it would be my best bet to do it with her."
Witherspoon (
What's your favorite Reese movie?
) reported when she first met Handler at a party, she was frightened at the notoriously raucous comic. "I was terrified of her but I thought she was brilliant," the actress said. It was Handler's skewering of celebrities that fueled Witherspoon's trepidations about first meeting her future friend. "I saw her show in an airport once and I was literally mesmerized. I was like, 'She's just brilliant and works so off the top of her head -- a comedic genius.' But, at the same time, being a person in the public eye, I was terrified."
So when it came time to cast the part of Witherspoon's onscreen BFF Trish in
This Means War
, the Oscar winner knew where to turn. "Of course… Chelsea Handler! She's brilliant," Witherspoon added.
Handler appreciated the time working alongside a friend, but most importantly she felt she grew as a performer. "I've learned a lot by working with her. We actually had great chemistry immediately and so it was so much fun because she's a professional and I'm completely unprofessional," Handler said and laughed. "Working together and bouncing off each other, in that regard, was really fun. We worked a lot and we improvised a lot. And we're good friends because of that."
This Means War Director McG, for one, appreciated Handler's candid comedy that drove the funny bone of the film. "The reason why Chelsea gets away with everything is she has a giant heart. Chelsea's a good person and that's why you have Reese attracted to that and letting her in. That's where the chemistry lies," McG said. "They felt comfortable and we just tried to create an environment where they could do what they wanted to do."

"I think what really endears you to Chelsea's character is that she is so sweet and tender in the film," Witherspoon added. "That's how she is -- she's just a very loyal friend."
What also appealed to Handler and Witherspoon about playing onscreen friends is that their characters were the polar opposites of their real-life personas. "In real life she has children. She's a mother. She's married and I'm single. So it was fun playing different roles," Handler said. 
Stories have been written about how McG had to cut some of Handler's improv jokes, as it pushed the film to an "R" rating. "I'm a troublemaker, everybody knows it, so it was bound to happen. And he (McG) egged me on," Handler said. "He had me saying some very dirty things that
I
even thought were dirty. So I wasn't surprised they were taken out."