In celebration of Tower Heist, Ben Stiller's latest film arriving on a terrific Blu-Ray this week, it occurred to us that the power to the man's impeccable comedy -- more often than not -- is his ability to be the straight man as chaos unfolds around him. Whether opposite Eddie Murphy's comic craziness in Tower Heist -- the Brett Ratner-directed action-comedy -- or the Night at the Museum movies, Tropic Thunder, and even going back to There's Something About Mary, no one carries a comedy chaos as Stiller does.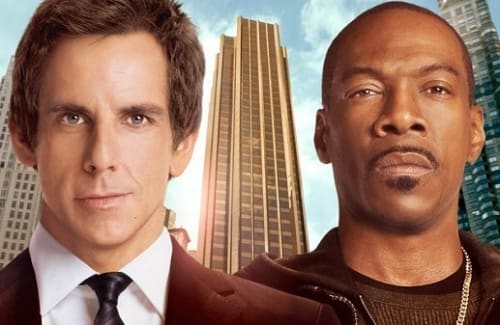 Stiller has a way about him that lives and breathes the everyman. Oftentimes in comedy, throwing that archetype into bedlam produces some of Hollywood's greatest comic moments. Here are five films showing off how Stiller has done it through a few examples of his brilliance.
Tower Heist:
Taking what Nick Nolte did in
48 Hours
and cranking it up a notch, Stiller is the straight man to Murphy's wisecracking ex-con. When the former asks the latter to help him on the ultimate revenge heist, the pair create impeccable comic chemistry. The film is one of the don't-misses of 2011 and now that it's on Blu-Ray and DVD it is a perfect opportunity to witness Stiller at his sizzling best.
There's Something About Mary:
One of the first films to showcase Stiller and his penchant for producing humor while the zanies do their thing around him. Think about any scene that he has in this film with Matt Dillon and you'll see what we're talking about.
Night at the Museum movies:
Both
Night at the Museum
movies also illustrate our point. You can't get any crazier than museum artifacts coming to life while the night watchman (Stiller) has to preside over this silliness.
Tropic Thunder:
As an actor who takes himself way too seriously, Stiller manages to sit back and let the comedy come to him while others, such as Tom Cruise and Robert Downey Jr., go off the rails for some hilariously humorous moments that are unforgettable.
Meet the Parents:
With a potential father-in-law like Robert De Niro, who resorts to spy agency efforts to discredit his daughter's boyfriend, Stiller manages to do his best to stay above the fray -- even if that means trying to rescue De Niro's beloved cat in an effort that results in a wedding gazebo going up in flames. Meanwhile, Stiller never fully loses his cool. That is, until those final moments of the film where he looks into the "hidden" camera and says, "What do you think about that?!" We love it. That's what we think, Ben.