Undefeated Filmmakers Interview: Inside the Oscar-Winning Documentary
by Joel D Amos at . Comments
The documentary filmmakers behind Undefeated can now add Oscar winner to their resume. The duo of Dan Lindsay and T.J. Martin shocked the world with their upset victory on Oscar night. "Oh, this actually happened. This is real," Lindsay said of the Oscar experience. "I kept thinking that somebody was going to say, 'Oh, we screwed up.'"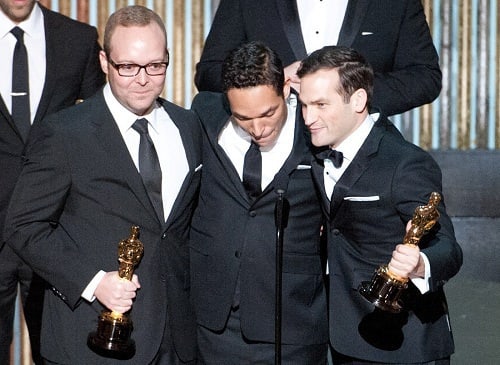 Martin concurred that the process towards Oscar winner has been extremely surreal -- a run towards Oscar gold that began years ago. "We got picked up by the Weinstein Company last March at South by Southwest, and that was like, 'We've done it! That's amazing! Other people will actually see this movie, aside from ourselves,'" Martin said. "Then, it made the Oscar short list and I was like, 'Oh, I just pissed my pants! That's crazy!'"
Lindsay added that this is where they want to be, but still it's hard to wrap their minds around it. "That was the life goal," he said. "I still couldn't believe that happened."
The pair are obviously passionate about their story of the Manassas High School football team in North Memphis and their volunteer coach who changed lives with his passion. Coach Bill Courtney took a team that had never been to the playoffs in the school's 100-year history (many years they didn't even win a game) and helped them achieve a playoff berth with an astounding record of eight wins and one loss.  
Although their accolades have come fast and furious of late, the filmmaking duo credits it all to the community that trusted them to come in with cameras rolling and capture a momentous moment in time. "For us, to get nominated is amazing, but it's way more a testament to the people that we made the film about. The fact that the players on the team and Bill and the people in the community trusted us, in the way that they did, to give us the emotional candor that we were able to capture in the film, we wouldn't have a film without that," Lindsay said.
Lindsay and Martin arrived in a city that they knew did not want to be portrayed as it had on the nightly news. "We felt that, at least in North Memphis and communities similar to that, more times than not, when there's a media presence there, they want to do a sensationalized piece about how violent the neighborhood is, or something like that. We came in, as an outside entity, saying, "We want to tell your story." So, in order to gain that trust, we had to commit to that and show up, every single day. We had to earn their trust, and then put ourselves in a position to actually capture things that unfolded in front of the camera, so we didn't have to have a talking head tell you anecdotal things that happened in the past," Martin added.
When it came to covering a subject for a documentary, Movie Fanatic wondered how much the film would be different if what happened on the field was not so
Undefeated
. "If they had lost every game, we would have made a movie about a team losing every game. The story reveals itself to you," Lindsay said. "The story tells us what it's going to be. This is what happened. We actually didn't want to make a sports film, going into it. Granted, we were going through a football lens, but we thought maybe it would veer into something more about education. But, after a few weeks, we couldn't deny that the drama was happening on the field and revolved around the team. That was the story that was telling us it was going to be." 
Martin feels strongly that the reason the film has resonated has nothing to do with its athletic subject matter. "Even though it's a 'sports film,' the themes that are explored in the film are much more universal. You could replace football with chess, painting or soccer," he said. "Generally speaking, the way we work is that the themes will present themselves to us, and then we'll decide what we really want to explore within the narrative while we're shaping the film, and we just stick to that. In this case, it was fatherhood, resilience, and taking advantage of opportunity or a lack thereof."
The duo had to walk a tightrope and made that fact clear to their subjects from the beginning of filming. "I remember having a long conversation with Bill, when we barely even knew him, and I was like, "Look, by the end of this, we probably will be friends. We will become very close with each other and this will be a very intense experience, and then we're going to leave and our lives will go on." That's a really strange thing, so you try to talk to people about it beforehand, so they're aware of that and they're comfortable with the idea of that," Lindsay said. "But, I think the approach of how close you get is seen on screen. If you're really surgical about it and just hands-off and it's almost sterile, I think that shows on screen. When you get really close with your subjects, and sometimes too close, where you can tell that somebody is keeping a moment in or they're editing themselves, you can see their relationship in a way that's not good. I think that gets revealed on screen. It's the level of intimacy you have to watch, so that it can play out on screen successfully."

"This is not objective journalism. Once we noticed how emotionally candid people were with us, and we captured all that material, we had an emotional experience, over the course of making it, and it was about imparting that experience to a greater audience. If we did that through what we felt was emotionally what we went through, over the course of making the film, then that was a success to us," Martin added.

In the end, Martin feels that their Oscar-winning film is an opportunity to celebrate the possible. "But it also recognizes that the community where these kids grow up, some of the decisions they make, at that moment in time and at that point in their life, could have dire consequences and a greater ripple effect."