The time has finally arrived to own Unforgiven on Blu-Ray. The Academy Award winner for Best Picture is marking 20 years since its premiere by being released on a stellar Blu-Ray set.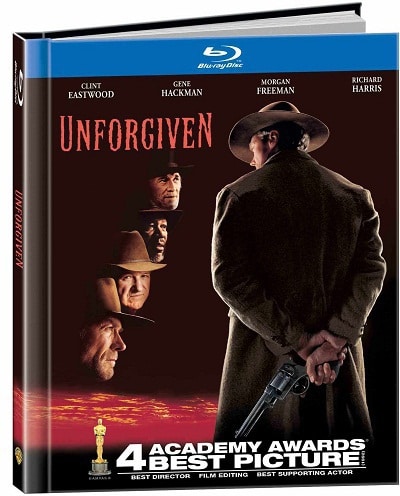 Unforgiven
won three other Oscars including Best Supporting Actor for Gene Hackman, Best Director for Clint Eastwood and Best Film Editing. According to Eastwood, the classic film "summarizes everything I feel about the Western."
The work is considered so powerful and masterfully done, that the American Film Institute included it on its Top 100 American Movies list. That's some heady company considering all the films that have arrived on screens since the dawn of the medium.
Eastwood and Morgan Freeman portray retired gunslingers who saddle up for one more job. The duo are hired to track down and kill those responsible for assaulting a prostitute in an Old West town. Hackman, meanwhile, plays one of his most evil characters to date, a brutal sheriff who takes his law enforcement edict to the extremes.
The Blu-Ray release boasts some stellar extras including four documentaries:
Eastwood on Eastwood
,
All on Accounta Pullin' a Trigger
(taken from the scene in the video below),
Eastwood & Co.: Making Unforgiven
and
Eastwood.. A Star
. Also, a don't-miss is listening to Eastwood biographer Richard Schickel's commentary on the film.
For more on this film's Blu-Ray release, head over to
Warner Bros. home video central
and don't miss a clip from the film below, perfectly titled
We all have it comin'
.