Jennifer Aniston and Paul Rudd have great screen chemistry, as we first saw in The Object of My Affection. You can imagine our delight when we heard about their re-teaming in Wanderlust. The film is a true comic farce, which doesn't forget the heart.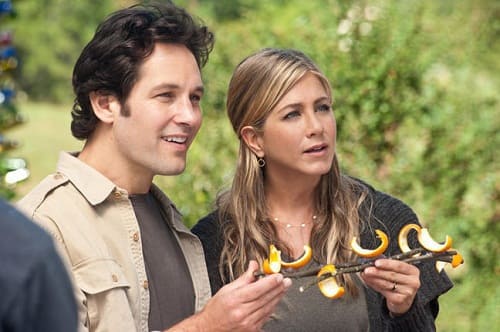 Rudd and Aniston play a married Manhattan couple. Right after they buy their dream "mini-loft," her documentary gets rejected by HBO and his company is closed by the government for fraud. What's a pair of soul mates to do? Unfortunately with no other options, they pack up and drive to Atlanta, where Rudd's brother lives. As established early, this guy is -- how do we put this nicely -- a jerk.
Moments before they arrive in Atlanta, the late-night hour gets to the couple and they pull over at a B&B in northern Georgia. Welcome to Elysium, a commune. Don't say that hippie-associated word near Justin Theroux's character, the leader of our fair communal troupe. Like the classic Clash song, soon Aniston and Rudd are asking
Should I Stay or Should I Go
? One night at the brother's house is all they need to answer that question. In a truly funny movie, the scenes in the Atlanta mansion where Rudd's brother lives are among the film's most hilarious.
They give themselves two weeks to see if they can handle Elysium. The film truly gets going when it dives into what it means to be a part of a community where everyone shares everything. What appears to be a pure life of living without boundaries clearly is not without complications. Rudd is the first to see this and thus where our film's conflict arises from.
Rudd and Aniston are a dream team of comic couplehood. Their play off of each other is effortless. But, they are not the true stars of the film. That award goes to Theroux and his enigmatic Seth. How the actor says the lines he emits and is able to deliver them with such humorous panache is beyond what we expected. He single-handedly raises Wanderlust from an average fish-out-of-water comedy and brings it to Nirvana.

There are obvious scenes where director David Wain (Role Models) allowed his actors to go off on an improvisational path. The performer who takes that baton and runs with it the most is Rudd. In one particular sequence, he takes what could have been awkwardly mundane and made it legendary. His comedy chops have never been called into question. Yet after witnessing him in a fall-on-the-floor hilarious scene with Elysium resident Malin Akerman that was clearly improv gone wild, our high esteem for the actor crept ever higher.