Wanderlust, out now in theaters, is a terrific ensemble comedy that features Paul Rudd as George and Jennifer Aniston as Linda. The pair are married and tired of the rat race in New York City. When both lose their jobs, they head to Atlanta to live with George's brother. On the way they stop for the night at a commune called Elysium where they meet Seth (Justin Theroux), the leader, and his "girlfriend" Eva (Malin Akerman) and a world that is hilariously foreign to our Manhattan couple. As most great comedies do, there are a slew of hysterical quotes from the film and we bring you the best.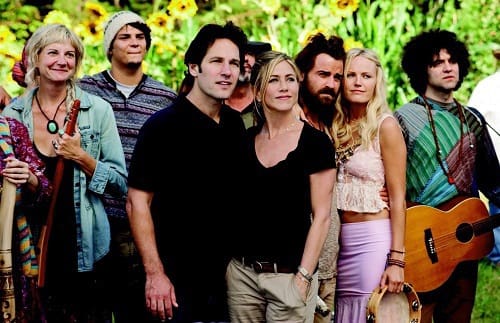 Free your mind and prepare to laugh at the comedy movie madness of
Wanderlust quotes
.
Wayne Davidson:
My name's Wayne by the way. I'm a nudist.
George:
Oh yes, we noticed your penis earlier. |
permalink
Eva:
I know New York is a great city, but I do not miss that lifestyle at all. I mean it was just stress, and Blackberries, and sleeping pills. I used to drink a triple latte every morning just to wake up.
Linda:
Well, I see your point, but I kind of value the sleeping pill and the Blackberry and the latte.
Seth:
You know you can really get trapped in that web of beepers and Zenith televisions and Walkmans and Discmans and floppy discs and zip drives, laser discs, answering machines and Nintendo Power Glove...
Linda:
Wow, you know so much about technology. |
permalink
George:
All these people live here. This is a commune.
Seth:
We prefer 'intentional community.' We're not a bunch of hippies sitting around playing guitar. |
permalink
Eva:
Ohh George. I like you.
George:
I like you too Eva.
Eva:
We should make love sometime... |
permalink
Linda:
I can fly.
George:
You can't fly!
Linda:
I believe I can fly.
George:
If you're going to get literal with an R. Kelly song, do
Trapped in the Closet.
.. |
permalink
Seth:
If you want to pick a fight with your sexual chi, it's just going to drive it inwards - and that invites disease, and death. |
permalink
George (to the mirror):
You like my erection selection? |
permalink