As news spread that Whitney Houston had died at the Beverly Hilton Hotel Saturday, Movie Fanatic was immediately struck by the indelible mark she made as an actress over her short life. Houston is being remembered today across the globe for her astounding singing voice. But, let's not forget the work she did as a full-fledged movie star.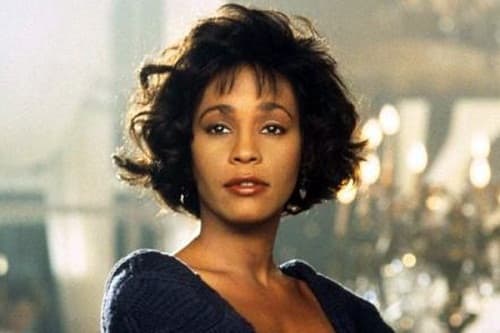 It is with great sadness that we look back at her career on film, and also preview what would be her last film that is due in August.
In 1992, she set the world on fire with her screen debut opposite Kevin Costner in
The Bodyguard
(
will there be a remake?
). The soundtrack to the film is still in the top 10 highest-selling albums of all time. Houston could not have been more impeccably cast as a singer who is being threatened and needs Costner's titular character to save her. The romance caused hearts to flutter in the early '90s as the love story between the two leapt off the screen. One of her most iconic recordings as a singer was from
The Bodyguard --
I Will Always Love You
. The song went straight to number one and sat there for months.
1995 saw her as part of the ensemble cast of one of the literary world's most popular novels which found its way to the big screen.
Waiting to Exhale
was written by Terry McMillan and was one of the most anticipated page-to-screen efforts of its time. Houston was joined by Angela Bassett, Loretta Devine, Lela Rochon, Gregory Hines and Dennis Haysbert in an all-star cast that riveted every bit as much as the book did. Houston more than held her own with Oscar nominee Bassett and served to also give the singer another great song from a movie soundtrack.
Exhale (Shoop Shoop)
sold more than one million copies, being certified platinum.
A year later, Houston scored another hit by appearing opposite
Denzel Washington
in
The Preacher's Wife
. The film starred Houston as the wife of minister Courtney B. Vance while Washington played Dudley the angel. The film was surprisingly touching and also allowed Houston's mother Cissy to join in on the soundtrack love with her recording of
The Lord is My Shepherd
. Not to be left out of the soundtrack magic, Houston scored another smash with her inspirational hit song
Step by Step
.
As we look back at the cinematic career of Houston, it is with great sadness that the astounding artist is set to appear in a new film that is due this summer. She stars in
Sparkle
opposite Jordin Sparks, Mike Epps, Derek Luke and Omari Hardwick. In a tragic stroke of fate, given the late singer's struggles, the story of
Sparkle
follows a sister singing group that must deal with fame and how the use of drugs comes close to destroying their careers and familial bonds.
Whitney Houston, rest in peace.