You've seen Rob Riggle in some of cinema's most successful comedies and now he's back on screen to steal scenes in 21 Jump Street. His parts in The Hangover, Step Brothers and The Other Guys are indelible, yet he may have done his best work in the big screen update of the classic TV series that launched Johnny Depp's career. Riggle is sitting down with Movie Fanatic for an exclusive chat taking us behind the making of 21 Jump Street. He also touts the comic chemistry of stars Jonah Hill and Channing Tatum while giving us his unparalleled insight into the iconic cameo by Depp in the film that lands in theaters March 16.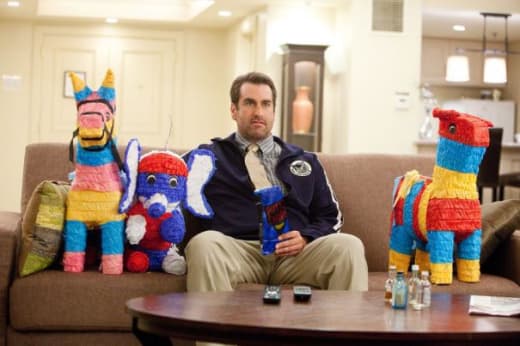 Movie Fanatic:
What were your first thoughts when you heard they were bringing
21 Jump Street
to the big screen?
Rob Riggle:
I was familiar with the show back in the day. I wasn't a hardcore follower of it but I had an appreciation for the show. I knew it had a really cool cast and a really cool concept so I was very interested to see the script. And in all honesty, I really don't do any pre-judging. I always want to read the script and see how I feel after I read the script. I want to be as objective as possible. I was lucky enough to be involved early on. I got to do some table reads so I got to see some early versions of the script and I got to watch it morph a little bit over time. I remember even on that first table read, I thought, "Oh, this is a funny movie. They got some really funny bits in here and really funny characters." So, I loved it for its comedy ability. You throw in the action on top of it, and realize it's going to be a good movie.
Movie Fanatic:
The entire creative force that brought
21 Jump Street
to the screen has done an impeccable job of balancing comedy, action and even romance. Talk a bit about the magic they created...
Rob Riggle:
It was a good team, and that's what you need to pull something like this off, with this many different moving parts and this many different angles to a story. I found working with Chris (Miller) and Phil (Lord) to be awesome. They have great energy. They had a very clear vision. They knew what they wanted to do. A lot of people think when there's two directors, you're going to get conflicting notes, that they're working against each other or they're not communicating. That's not the case at all. They couldn't have been clearer with their communications. They couldn't have been more open to allowing us to improvise and to play. Every day I was excited to show up on set and that's a good thing because it doesn't always happen [
laughs
].
Movie Fanatic:
How was doing the improv on set? Was there room for it?
Rob Riggle:
It all depends on the people around you. I prepare pretty much the same way I always prepare. I read the script, got to know the character, I knew what the character's part was, basic scene analysis type of stuff. At the same time, you also draw from your own experiences. So I went back and I thought about some of the football coaches and teachers I had, maybe a few drill instructors in there and I pulled from some of their alpha-ness and mashed it into what became Mr. Walters. But yeah, they did a great job. Jonah did a great job with setting a tone on the set. Chris and Phil did a great job of setting a tone on the set, which was one of "If you've got an idea, let's go for it. If you want to try something, try it." And we improvised a lot. A lot of the stuff we improvised made it into the movie which was kind of fun.
Movie Fanatic: Jonah Hill and Channing Tatum's chemistry is astounding. How did you find those two as comic partners?

Rob Riggle: I knew Jonah from before. Comedy circles are pretty small. I had met him a couple of times and I knew what a talent he was. So I knew he was going to bring what he always brings which is just a very funny sense of humor, a great perspective, a very funny guy. I had never met Channing and I couldn't have been happier. Channing is the funniest dude. And I'm not just saying that. He knows his way around a bit. He knows comedy. Whether he knew it or not, he knows comedy well, and he knows how to play things. He's open and he's a great actor. He just slid right into it. We were improvising and playing and he knew exactly how to do it. So I couldn't have been any more pleased or happily surprised. I thought it was really cool.

Movie Fanatic: It sounds like you all got along famously…

Rob Riggle: Everybody genuinely enjoyed each other's company. When we weren't shooting, we were hanging out together at craft service or lunch. We'd go eat lunch together. We'd go have a beer and watch a game. We enjoyed each other and we were doing bits even when the cameras weren't rolling. So that's when I always feel like it's going to be good because when you have that kind of fun and chemistry, I believe personally, that it translates in front of the camera.

Movie Fanatic: Without giving too much away, you were in a really great scene in the movie with Johnny Depp. What was that like?

Rob Riggle: It was awesome, it was cool. I'm like anybody else, I'm a fan. I get nervous. We had a very short amount of time and we had a lot to do but I didn't want to be a burden or a distraction but I definitely made sure I introduced myself and shook his hand. It was awesome because he was everything I'd hoped he'd be. He was cool, funny, professional and awesome. I was not disappointed. I was very happy.