What are they thinking? That may have been the collective thought when it was announced that 21 Jump Street was coming to the big screen. The 1980's classic, that launched the career of Johnny Depp, is deeply beloved by those who devoured the show. Yet, in the right hands, any property can truly make an effective jump to the big screen. 21 Jump Street, starring Jonah Hill and Channing Tatum, is that film. It is astounding how good this action comedy is, surprising in fact.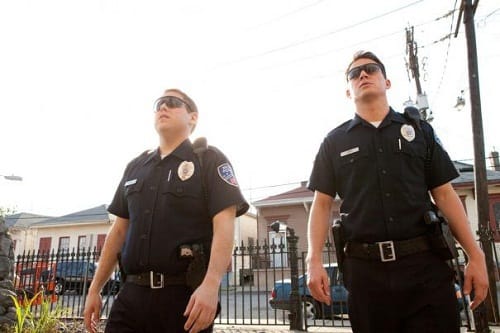 The tone of the film is truly established in its opening moments as The Real Slim Shady plays as a peroxide blond, decked-out-in-braces Hill walks through the halls of his high school as a long-haired jock Tatum makes fun of him. In the film's present, Hill and Tatum are former high school enemies who bond over the toughness of the south Florida police academy where they meet again.

Partnership at all costs is a theme presented early. Tatum is the brawn and Hill is the brains and together, they graduate the academy to become some of south Florida's finest. Bike cops, that is.

When the duo get their first bust and blow it (as seen in the trailer below), their boss (Nick Offerman) sends them down to what is perceived to be a demotion. In fact, it is the opportunity of a lifetime. They are to become undercover cops in a local high school in an effort to stop a drug ring from spreading to other local schools.

Unlike the original TV show, the film isn't afraid to make fun of how old our undercover students appear, compared to high schoolers -- proof that 21 Jump Street doesn't take itself too seriously. The victor in that gamble is the audience. There is so much humor that is between the lines in the film that screenwriter Michael Bacall, along with story contributor Hill, has done a wondrous job making us forget about the fact that our delightful film is a TV-to-big-screen reboot. On its own, which is how the movie should be judged, the film is bloody brilliant on so many levels.

The casting of Hill and Tatum on paper could seem off. Yet, the duo are pure magic. Their repartee is largely what makes 21 Jump Street a must-see on the big screen. Cinematic camaraderie is an elusive beast. Our leads have it in droves.
Scene stealer Ice Cube is further proof that everyone involved in the film believed that they were on to something, and therefore even the supporting cast needed to be dazzling. Rob Riggle also continues his hot streak of supporting roles of late.

The guys' headquarters for their high school undercover gig is a former church and Ice Cube rules it with a nod to some of films' greatest police captains. His rant about not being an angry black man, even though he "sometimes gets angry… and yes I'm black," is the stuff of genius. When he chews out our guys while literally chewing on a sandwich, he further proves that directors Chris Miller and Phil Lord nailed it with 21 Jump Street across the board.

And finally, all we have to say about the cameo of Depp in the film: It has to go down as one of the all-time best cameos in movie history.