Robert De Niro embodies a character in John Flynn that is unlike any he has played prior. His haunting portrayal is unshakable. But as amazing as he is, he's not the top draw in Being Flynn.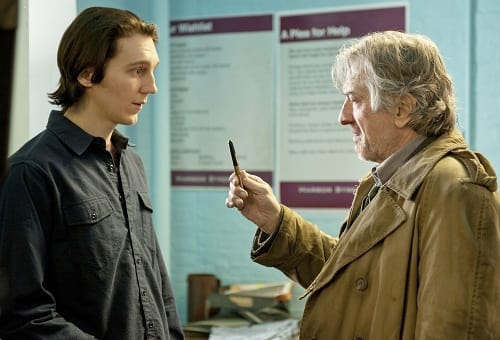 The film is the Paul Dano show. He shows depths as an actor playing Nick Flynn that find him not only going toe to toe with the Oscar winner, but scoring the rare feat of stealing our attention from a legend in every scene they share.
Part of the power of
Being Flynn
is that generational passing of the torch. Although we've taken the baton and are running ahead, we still see parts of ourselves firmly in our parents. For souls such as Dano's Nick, that can be especially difficult. As we meet these two characters, they are living separate, but clearly parallel lives. John has his troubles with alcohol and Nick does as well. Both are writers, although the younger Flynn is fighting that, as it reminds him of his father who has been absent for the last 18 years.
The full force of the film kicks into gear when Nick takes a job at a Boston homeless shelter. One evening while he is checking in those who seek shelter, his father is suddenly standing in front of him seeking help. The power emanated solely from Dano's face is heartbreakingly brilliant and speaks to that thespian triumph that is this role for the young actor.
After his charming
About a Boy
,
In Good Company
and let's not forget
American Pie
, filmmaker Paul Weitz has done it again with his latest. The man has a knack for creating and cultivating characters over the course of his films that not only serve as mirrors to ourselves, but provide the inspiration to cull our inner depths that allows us to be altered by a single motion picture.
You can tell that Being Flynn is based on a book in how it manages to be evenly and thoughtfully plotted out. The real Nick Flynn penned the memoir based on his own experiences. And the brilliance of the film is how Weitz has captured the essence of what was clearly a painful story to write for the author, and given it such life on the screen.

Although it is seriously heavy at times, immediately Being Flynn heads to the top of our Best of 2012, albeit early in the year!