Will Ferrell has proven he brings the funny in the most unexpected places. Who would have thought that a laugher about a race car driver named Ricky Bobby could be an instant classic? With Casa de mi Padre, Ferrell is ready to shock the world. The entire film is in Spanish as it tells the story of a Mexican ranch owner's son who is trying to make sense of his ever-changing world. The film plays like if a telenovela TV show met a spaghetti Western and had a Will Ferrell comedy.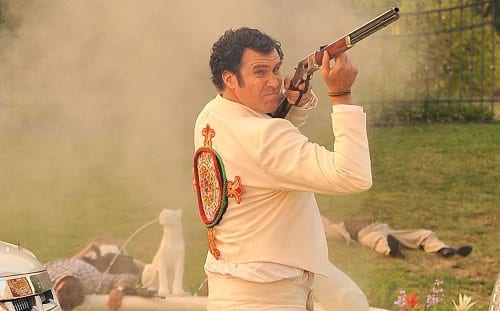 Ferrell is Armando Ernesto, a man who has lived in his brother's shadow since birth… thanks to his over-bearing father (Pedro Armendariz Jr. in sadly his last role). Diego Luna is Raul, the brother who returns with wealth to save the family ranch. As Ferrell's Armando begins to figure out where his brother's money comes from, he becomes distracted by the beauty and charm of Raul's fiance, Nora (Genesis Rodriguez,
Man on a Ledge
). As drug lords threaten their property, Armando must summon the courage to save his family's geographical heritage.
As over the top as some telenovelas can be, Ferrell and his filmmaking team have a keen understanding of the genre. They too have grasped the concept of not only failing to take yourself seriously, but also throwing bombs at the audience that are metaphorical winks of the eye including one scene where Nora and Armando ride what are clearly fake horses against a backdrop that is pretty obviously being fanned by the wind.
Director Matt Piedmont and screenwriter Andrew Steele share Ferrell's mastery of the film they're making. What began as a whim of an idea by the film's star has become a collective of Spanish speaking comedic brilliance.
To be seen as legitimate, which Ferrell was going for, Casa de mi Padre had to gather the best talents from south of the border. They have assembled in Casa de mi Padre and Gael Garcia Bernal leads the pack.

This film is so smart -- even beginning the film with a voice-over from Kris Kristofferson telling the audience, "If it sounds like Spanish, it is probably Spanish." Could that be an answer to the people who tried to get a refund for not knowing that The Artist was a silent film? Even if it's just a stroke of genuine luck, it shows how Casa de mi Padre's creative team is all firmly on the ball.