Casa de mi Padre broke star Will Ferrell out of what he told Movie Fanatic was a movie rut. His Spanish language comedy is a tribute to Telenovelas and Spaghetti Westerns. It works on so many levels and is one of the actor's best. As it is a Ferrell comedy, you can count on the quotable lines to be aplenty!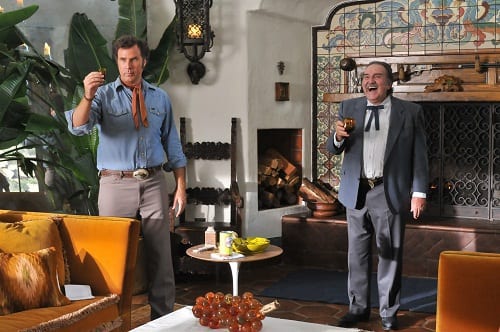 The film features Ferrell as Armando Alvarez, a Mexican rancher's son whose father Miguel believes is more fit to serve as a backup to his brother Raul running his farm than as the one who leads it.
In honor of Ferrell's going Spanish, here are the best
Casa de mi Padre quotes
. Check back as we compile more as they arrive!
Miguel Ernesto:
You're just like your mother, a big heart but simple. You cannot help me, I need someone smart, and if you were smart you would know that you are dumb. |
permalink
DEA Agent Parker:
Do. You. Speak American?
Armando Alvarez:
No sir. I don't speak American. |
permalink
Armando Alvarez:
My woman, Miss Lopez, must love the land as I do. |
permalink
Raul Alvarez:
I'd like to propose a toast and thank those who have come from so far. But I would like to especially thank someone -- someone who many of you have often called stupid, imbecile, fat head, but... he's a guy with a big heart. I propose a toast for my brother. For your happiness Armando.
Armando Alvarez:
Yes, to Raul's happiness. May you enjoy all of life's pleasures. Even if it means the destruction of the family! |
permalink
Onza:
Sonia, why are you sleeping with this dirty rancher?
Armando Alvarez:
Stay away, or I'll beat you with these hands! |
permalink
Armando Alvarez:
I am Armando Alvarez! |
permalink