Casablanca, one of the best movies of all time, is celebrating its 70th birthday with a spectacular Blu-Ray and DVD combo set.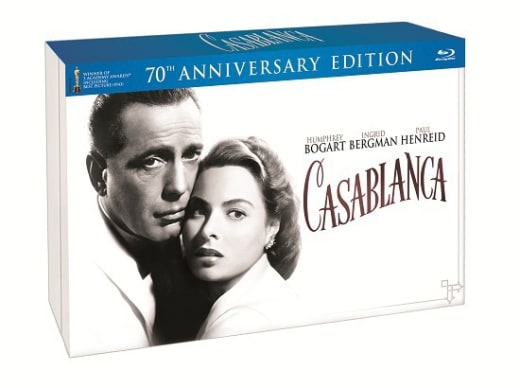 How amazing is this set? If it included the classic film alone on Blu-Ray, we would be thrilled. But with over 14 hours of bonus material, including two never-before-seen documentaries,
Casablanca: An Unlikely Classic
and
Michael Curtiz: The Greatest Director You Never Heard Of
, this is the definitive collection for any classic film buff or
Casablanca
fan.
There are also three other documentaries that take film fans into the world of the movie studio during the era of
Casablanca: The Brothers Warner
,
You Must Remember This: The Warner Bros. Story
and
Jack L. Warner: The Last Mogul
.
We have suddenly struck up a beautiful friendship with this 70th anniversary edition of the classic film that stars Humphrey Bogart and Ingrid Bergman as star-crossed lovebirds finding their way as war looms. Check out the following iconic scene from the film's Blu-Ray release:
The feel of the box set also contributes to the full Casablanca experience with a 60-page production art book that is simply stellar. Also included are never-before-seen photos, personal memos from the stars and the film's director, archival documents taking fans inside the making of the film as well as a reproduction of the original 1942 French film poster. Also featured is a terrific little bonus: Four collectible drink coasters from Rick's Cafe Americain!

Also astounding us in this collection are commentary tracks by Roger Ebert, an introduction by Lauren Bacall (who knew a thing or two about Bogart) and an additional commentary track by Rudy Behlmer.

Think that's enough? Hardly! Head back in time with the following assets included in what may be the best Blu-Ray package of the year:

Now Voyager Theatrical Trailer - Warner Night at the Movies
Newsreel - Warner Night at the Movies
Vaudeville Days - Warner Night at the Movies
The Bird Came C.O.D. - Warner Night at the Movies
The Squawkin' Hawk - Warner Night at the Movies
The Dover Boys at Pimento University or The Rivals of Roquefort Hall
Great Performances: Bacall on Bogart
You Must Remember This: A Tribute to Casablanca
As Time Goes By: The Children Remember
Deleted Scenes
Outtakes
Who Holds Tomorrow?
Carrotblanca – Vintage Cartoon from Warner Bros.
Scoring Stage Sessions
4/26/43 Lady Esther Screen Guild Theater Radio Broadcast
11/19/47 Vox Pop Radio Broadcast

Overall, this is a film set that is a must for any film fan, regardless of their era of expertise or passion. What many consider one of the greatest films of all time is also a chance to visit the past where a single film could impact the entire world. Play it again Sam, indeed.