Tony Kaye has had a storied career behind the camera (American History X) and is beyond thrilled with his latest, the Adrien Brody starring Detachment. For starters, he was in awe of his cast that also includes Christina Hendricks (Mad Men), James Caan, Marcia Gay Harden, Lucy Liu and Blythe Danner. "It was kind of an epiphany for me, finding out honestly what kind of a treasure I actually had," Kaye said to us exclusively.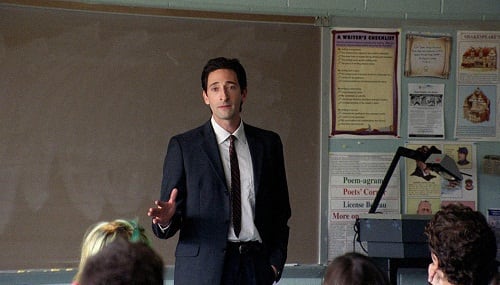 The director was inspired by the thespian treasure trove he scored. It even made him want to be an actor, simply so he could play in the same cinematic sandbox. "I found myself realizing that working with actors is the fundamental part of the craft that I connect with. It's like being a guest, sort of wishing that I'd been an actor myself and wanting to be in front of the camera. I find myself really getting inside these people, feeling their pain and joy and these kind of things and really sort of help them augment what it is they do. I don't get in the way. I'm not a control freak; I'm a reality freak."
Brody is the star of the film and plays a substitute teacher working amongst the mountainous challenges of an inner-city teacher. The helmer decided the best use of his cast was to focus on Brody, and let the stars surround him like a talented sun. "I decided to give the whole movie to Adrien and put these satellites and encounters around him to become part of the glossary in his fold," he said.
Kaye even believes that audiences will come away from
Detachment
with a feeling that the Oscar winner for
The Piano
has joined a league of actors that is of up the most upper of echelons. "I think what Adrien did was really create one of the stand-out performances of the last two years -- certainly to really put himself very firmly in the (Robert) De Niro, (Al) Pacino, (Dustin) Hoffman realm."
He feels that Brody brings something that is intangible to any role: The ability to compel us, simply by being. "I like actors who can walk in front of the camera and just drink a cup of coffee and they just own the scene. You don't have to build the scene around them, they just own it. That's what he does," Kaye said. "What's great about Adrien is the fact that his father was a public school teacher for 30 years and his mother is an art photographer. So he was brought up hanging around the Village Voice as a kid. And he really looked after me. He really understood what I could do with him and for him and he protected me on the set. All the other actors could see that we were so in control of this machine that they just fell into step. Adrien was the executive producer as well on it. I got there because of him. I think his performance in time will go down as one of the outstanding ones."
The helmer admitted that at the heart of the story that most compelled him, was a tale of the human spirit and those that challenge it. His resume is filled with such films. "I worship humankind, humanity," Kaye said. "I also like to do things based on social issues and this movie -- education, Lake of Fire -- abortion, and American History X – tolerance. That was obviously a part of my attraction to the movie."