Sure, Friends with Kids sports four alumni from Bridesmaids, but don't look at it as being in the same vein. It is funny, just not the side-splitting, fall-off-your-chair hilarity that Kristen Wiig produced in 2011's best comedy. The Jennifer Westfeldt-written, directed and starring movie is more of a serious take on the human experience that many share in today's world and she has handled it with deft hands.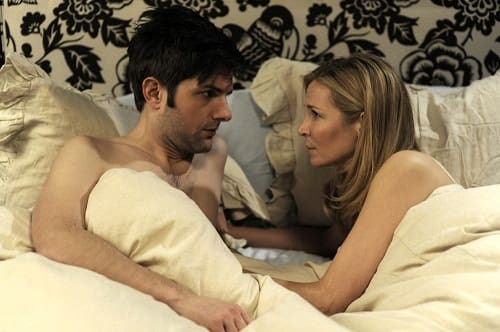 Westfeldt's story follows six people, four are couples. The singles are Adam Scott's Jason and Julie, played by the writer-director. Our couples are brilliantly cast. The happy on the outside one is Ben and Missy, as played by Wiig and Jon Hamm. Stable couple Leslie and Alex (Maya Rudolph and Chris O'Dowd) are clearly driven by Leslie's firm beliefs.
The story quickly moves along to several years later and our two couples have young kids. One big happy friend family still remains, but something is pulling at the heartstrings of Jason and Julie. They want kids. They want the soul mate. With the latter nowhere on the horizon, they decide it would be easier for the two of them to have a child and then they could be free half the time to find "the one." Each would split parenting duties and they would have all the greatness of parenting without the "strings" of marriage to the wrong person.
In theory, that works.
What makes
Friends with Kids
special is how Westfeldt uses her cast. The sub-genre of the ensemble movie can sometimes fall under the weight of its expectations of the more the merrier. Yet,
Friends with Kids
effectively flushes out all six characters and even a seventh with a solid performance by Megan Fox as Jason's post-baby girlfriend who he believes is serious about their future together. Fox effortlessly joins the group of actors who have worked together prior.
Wiig and Hamm, who in Bridesmaids portrayed a couple where one half would not commit, in Friends with Kids are all too committed, to the point of fault. The two actors show again why their chemistry is gold. Hamm, by the way, gives a performance that makes you utterly forget he ever played that Don Draper Mad Men guy.

Rudolph, currently enjoying accolades for her scene-stealing role on Up All Night, does the same in this film. She is becoming an actress who is equally in command of her dramatic turns as she is her comedic ones. Watching her balance that act is another superb joy of Friends with Kids. Her camaraderie with O'Dowd is spellbinding. And the cute and cuddly promise that the actor displayed in Bridesmaids is catapulted to another level in Westfeldt's film.

Ensemble pieces that we remember have to work or expectation is met with devastating disappointment. Films such as Love, Actually and now Friends with Kids achieve the most difficult of tasks -- the flicks touch all of our emotions, spotlight all their talents' vast strengths without overshadowing or overkill and move at a solid pace towards a treasured conclusion.