The Hunger Games has done it, scored the third highest opening weekend in box office history. The Jennifer Lawrence-starring film earned $155 million in its first few days of release. It may be in third place all-time with its opening, but it can claim one box office record: It is the highest grossing opening weekend of all time for a film that was not a sequel!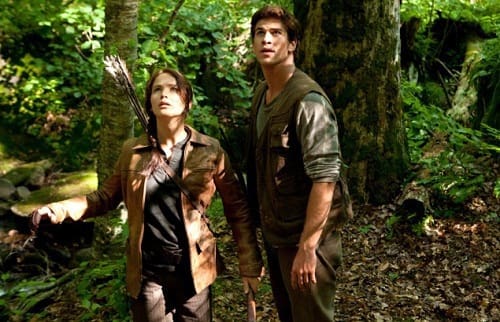 Hunger Games
fans came out in force to check out the solidly reviewed film and put it behind only
Harry Potter and the Deathly Hallows Part 2
($169.2 million) and
The Dark Knight
($158.4 million) on the all-time opening weekend box office list.
To say Lionsgate is thrilled is an understatement. "When we went to bed Saturday night, we thought it would be $135 to $140 million, just because the numbers usually drop by 45 to 55-percent later in the weekend," said David Spitz, executive vice president of distribution at Lionsgate. "But, the numbers kept holding! For us, it's a game-changer."
The rest of the top 10 was far off the leader -- with last week's box office champ
21 Jump Street
scoring second. That film made $23.1 million and was followed by
The Lorax
in third with $13.1 million, bringing its total revenue to an impressive $177.3 million.
Movie Fanatic called it when we wrote on Friday that
The Hunger Games
would surpass all the
Twilight
films with its far broader appeal. But even we were surprised by the $155 million haul. Next week sees
Mirror Mirror,
Goon
and
Wrath of the Titans
arriving on screens. Will they even make a dent in the machine that is
THG
?
Box office top 10:
1.
The Hunger Games
, $155 million
2.
21 Jump Street,
$21.3 million
3.
Dr. Seuss' the Lorax
, $13.1 million
4.
John Carter
, $5 million
5.
Act of Valor
, $2.1 million
6.
Project X
, $2 million
7.
A Thousand Words
, $1.9 million
8.
October Baby
, $1.7 million
9.
Safe House
, $1.39 million
10.
Journey 2: The Mysterious Island
, $1.37 million