There was something that grabbed film producer Nina Jacobson when she first read Suzanne Collins' The Hunger Games. She and her partners optioned the book when it had barely sold 150,000 copies, long before it was a sensation. Now that she has shepherded it to the big screen, to say Jacobson's excitement is palpable is a gross understatement. The force behind The Hunger Games coming to the silver screen is sitting down for an exclusive interview with Movie Fanatic to talk about the entire filmmaking process, what sets this book series apart from all others and how the director and cast is sure to make every THG fan even more fanatical.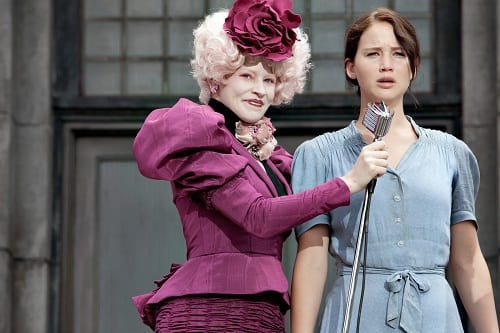 Movie Fanatic:
What do you think it is about this book and this series that has so resonated with people?
Nina Jacobson:
I think that the book speaks to the one percent and the 99 percent. As a culture, it's a conversation that we are having and ought to be having and that the books speak to that, to the way in which celebrity, consumerism, the gloss of fame and production value covers our larger social ills which people are suffering under. It speaks to the anxiety that young people have about the world that awaits them. It actually speaks to how savvy young people are too about what they consume and knowing that what they consume is produced for their benefit.
Movie Fanatic: Jennifer Lawrence, an Oscar nominee for Winter's Bone, really hit it out of the park. What was it about her besides her amazing raw talent that you really saw fit Katniss?

Nina Jacobson: Winter's Bone was in many effects an incredible audition for this movie because she's fierce but she's nurturing. She's in over her head. She's vulnerable. And Suzanne had also seen that and really responded to that performance. But when Jen came in and auditioned, she really stole the role. She made the casting director cry at the audition. Debra Zane (casting director) was playing Prim and Jen did this thing in the audition -- it's the scene where she's saying goodbye to Prim, her mother and Gale -- and she did this scene in the audition where she says to her mom, "Don't cry." In these two words she's saying so much to her mom. She's saying basically don't cry in front of Prim, you can't fall apart. You can see there's this kind of love but a lot of baggage and history in their relationship. It was unbelievable. It's in two words! I was thinking, "I can't believe she got that much out of those two words in addition to the goodbye to Prim." The casting director started to cry in the goodbye scene, it was so devastating.

Movie Fanatic: What about director Gary Ross made you think he could make that leap from the page to the screen so successfully?

Nina Jacobson: I think the fact that Gary is fundamentally a character-based storyteller and that all of the action, the drama, the conflict in his work comes from character. The story doesn't happen to the characters, it happens from them. I think actually very few people are capable of telling stories that are rooted in authentic character foundations. Gary has done that in all of his writing, in all of his directing. I think that as a director he brings a different style to each movie. It's not like one size fits all. He just understood this material at a thematic level and he had a great connection to the characters. He had teenage kids and the way it impacted them was important to him. From the beginning he always felt like he understood what the movie needed to be.

Movie Fanatic: How has this process changed you at all or what have you learned about yourself during this creative process?

Nina Jacobson: I've been so mindful of how important it has been to me for Suzanne to feel that we captured the essence of her book. It's the books that have resonated with people and we've had the good fortune of making a movie which has created a dialogue back and forth between the book and the movie. So people got excited about the movie, maybe new people read the book, people who were excited about the book got excited about the movie. There's been this sort of ping pong that's gone back and forth. When Suzanne saw the movie and embraced it and felt it was complimentary to the book, that was so important to me… What I've learned about myself through the movies that I've made as a producer is that the issue of authorship means a lot to me. And in a case like this movie, we had two authors, Gary as a writer/director who has an incredible vision and a very specific vision and then Suzanne who is the author of our source material. It's been very fortunate to have those visions coalesce the way that they have because I think the movie without a voice, in which it's decision by committee, I think audiences want and deserve something better than that. And yet you have these two voices that have to both emerge, the voice of the original author and the voice of the filmmaker, and as a producer it's been my greatest concern to protect both of those.