The Hunger Games more than made a splash with its March 23 arrival. The film set box office records and landed in third place on the all-time highest grossing opening weekend list behind Harry Potter and the Deathly Hallows Part 2 and The Dark Knight. As the book was such a sensation, you know the page-to-screen effort will have fabulous lines that fans of the Suzanne Collins book series will be quoting for months.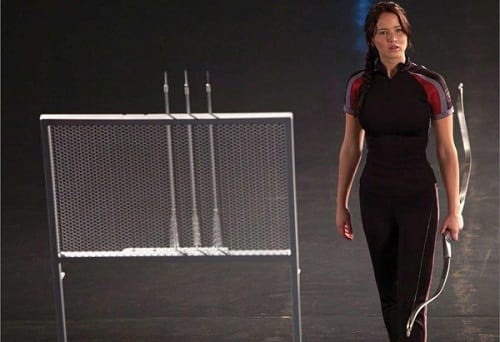 After witnessing the film twice now, Movie Fanatic is just a little bit centered in the world of Katniss (Jennifer Lawrence), Gale (Liam Hemsworth) and Peeta (Josh Hutcherson) while they try to stay alive as the authoritarian government rules the land with a firm fist.
Be sure to check out all of our
THG coverage
including exclusive interviews and dozens of trailers, and don't forget to read our
The Hunger Games quotes
!
President Snow: And it was decreed that each year, the 12 districts of Panem should offer up a tribute of one young man and woman between the ages of 12 and 18 to be trained in the art of survival and to be prepared to fight to the death. | permalink

Effie Trinket: I just love that! | permalink

Katniss Everdeen: It's your first year Prim, your name has only been in there once, they're not going to pick you. | permalink

Katniss Everdeen: I volunteer! I volunteer as a tribute! | permalink

Katniss Everdeen: There's 24 of us Gale, only one comes out. | permalink

Gale Hawthorne: Okay, listen to me, you're stronger than they are. You are. They just want a good show, that's all they want. You know how to hunt. Show them how good you are. | permalink

Katniss Everdeen: Take care of them, Gale. Whatever you do, don't let them starve! | permalink

Katniss Everdeen: So you're here to make me look pretty.
Cinna: I'm here to help you make an impression. | permalink

Peeta Mellark: I just keep wishing I could think of a way to show them that they don't own me. If I'm gonna die, I wanna still be me.
Katniss Everdeen: I just can't afford to think like that. | permalink

Cinna: I'm not allowed to bet, but if I could, I'd bet on you. | permalink

Caesar Flickerman: Katniss Everdeen, the girl on fire! | permalink

Haymitch Abernathy: This is the time to show them everything. Make sure they remember you. | permalink

Caesar Flickerman: So Peeta. Tell me. Is there a special girl back home?
Peeta Mellark: No. No, not really.
Caesar Flickerman: No? I don't believe it for a second, look at that face! Handsome man like you! Peeta. Tell me.
Peeta Mellark: Well, there, uh. There is this one girl that I've had a crush on forever.
Caesar Flickerman: Well, I'll tell you what Peeta. You go out there, and you win this thing, and when you get home she'll have to go out with you!
Peeta Mellark: Thanks, but I, uh. I don't think winning's gonna help me at all.
Caesar Flickerman: And why not?
Peeta Mellark: Because... she came here with me. | permalink