Jeff, Who Lives at Home features Jason Segel and Ed Helms as brothers and the two are brilliant in the dramedy from filmmakers who know a little something about brotherhood, brothers Jay and Mark Duplass (Cyrus). The film follows a day in the life of the two cinematic siblings that, by the time the sun sets, will change both of them forever. Both actors were immediately drawn to the film upon first reading the script and turn in stellar performances. The duo are talking to Movie Fanatic about their latest work that begins with Segel's Jeff doing a voice-over about the life-changing merits of the film Signs. "I'm a giant fan and I just remember a period in my life when I was out of work, and I was sitting there waiting for someone to cast me. And it was very much like Jeff," Segel said.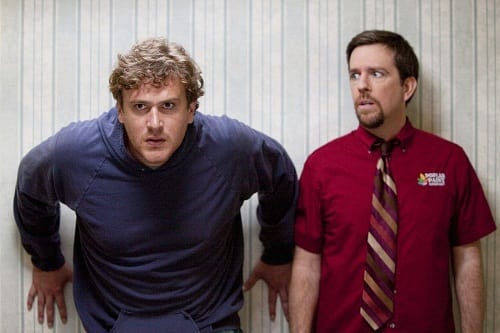 "You know, I was waiting for the sign that I'm supposed to be an actor and 21 to 25 was a crazy out-of-work period. It was before I really started writing hard. And I remember very much just sitting there thinking, 'I'm going to wait for the sign that I'm worthy of being an actor.' That's what I related to in the part."
Has it happened yet? "No, it really hasn't. Some day," Segel said and laughed.
Jeff, Who Lives at Home
follows the title character who, yes, lives in his mother's (Susan Sarandon) basement. Upon getting what he believes is a fateful,
Signs
-like phone call, he embarks on his day with sort of a vision quest.
The brothers go through quite a lot in the film, but Helms reported it wasn't anything they couldn't shake after the shoot completed each day. In fact, he finds those onscreen moments psychologically helpful. "These kinds of scenes are, to me, sort of therapeutic somehow. I don't know what that says about me," he said with a laugh. "But I really love exercising these icky feelings that I think we all have and bottle up. To get to have this kind of explosive scene with a loved one, even if it's imaginary, it has some sort of value. And that's kind of a tribute to the process, too. Because it is so organic and these words are just like bubbling out. And it's tapping into real things, real emotions and experiences. It's exciting, it's fun, but it also has some sort of like healing property."
One part of the film that was a challenge physically was where the two brothers have to jump off a bridge into a Louisiana river below. Not that either actor is afraid of heights, but it still proved one daunting task. "It felt crazy," Segel said of the leap. "I did something smart. I told everybody I knew that I was going to do the jump. So when it came time… I couldn't not do it. I told everyone I was going to do it! I even had family visiting and I couldn't let them down."
Helms had another reaction to the fall. "I landed in the water with my pants full of pee," he said with a straight face.
When asked to share a funny story from filming, Segel comes up with one that hysterically can be witnessed onscreen. "The movie takes place in one day, and I gained 25 pounds while being there, and we shot as much as we could chronologically," Segel said. "And as many themes as we have, the movie is about a guy who gains 25 pounds over one day [
laughs
]. It's amazing. Like I walk through a doorway and I'm ten pounds heavier. It's remarkable."
For Helms, filming Jeff, Who Lives at Home sounds like a career high. "There's this whole exciting process, which these guys are all about," Helms said of the Duplass brothers. "It's the most fun way to go to work on a set every day."

It appears that the Duplass brothers helm a set that is laid-back and relaxed. Segel admitted that the atmosphere can create the most humor. "I don't like it when I see somebody trying to be funny. To me the whole goal is just being natural," Segel said. "The goal for me the whole time was just to be really regular."
 
Lastly, we want to know… Segel's character finally gets off the couch and has the adventure of a lifetime. What does it take to get someone off the couch? "I'm still trying to figure that out," he said and smiled.