Jeff, Who Lives at Home Movie Review: Helms & Segel's Sibling Score
by Joel D Amos at . Comments
Filmmaking brothers Jay and Mark Duplass have a unique style and tone to their films. Cyrus, most recently, extolled its comedy with shards of serious drama. So too do we find the feel of Jeff, Who Lives at Home. The film stars Jason Segel and Ed Helms as brothers who appear to be at polar opposites on the view-of-life scale.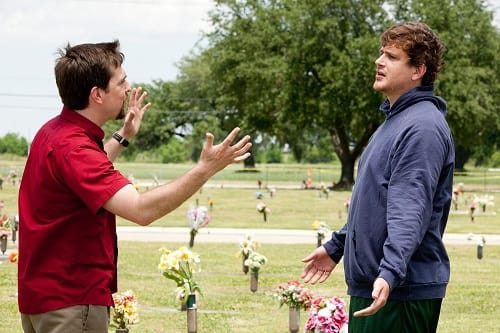 Segel is the titular character. Susan Sarandon is his mother, and she is clearly not thrilled that her son is living in her basement, jobless, hopeless and lost. On the one day that the film takes place, she urges him to undertake an errand for her that is the only thing at this moment she wants from her son. In fact, she hopes this one trip to buy wood glue will be the thing that turns his life around and takes him off of the couch and into the world.
Meanwhile, Jeff's brother Pat is "living large" with his wife Linda (
Judy Greer
) and his full-time job at a paint store. He begins his day by informing his wife he just bought a Porsche they cannot afford. Thus commences Pat's day that appears to be sullen, yet because of fate, may just wind up blissful.
It is that teetering between drama and comedy that the Duplass brothers have firmly lodged in their wheelhouse. They are masters of creating the simultaneously touching moment that also produces laughs and cringes. They also get the most from their cast. As Jonah Hill proved his dramatic acting skills in
Cyrus
, in a different way Segel does as well in this film. We know what he can do, but there's something about his work in
Jeff, Who Lives at Home
that leads us to believe he is, in many ways, our next Tom Hanks.
And then there's Helms. The man who has taken over The Office has crafted a brand new character. Some familiar Helmsian traits arise including the boisterous banter where deep inside the character is deeply unsure. His performance as Pat is a revelation.

Jeff, Who Lives at Home will more than satisfy audiences who seek some mental chess with their humor -- in the sense that family can be the most complicated of institutions we have. The Duplasses know this, and as such, they have run through minefields of hilarity and heartwarming joy that are equally explosive in their latest. They, and us, would not have it any other way.