Jennifer Lawrence Interview: The Hunger Games' Katniss Comes Clean
by Joel D Amos at . Comments
In the second part of our Jennifer Lawrence interview, Movie Fanatic delves deeper into The Hunger Games mania that is sweeping the world. The actress gives details on how much author Suzanne Collins met with her to adequately capture the role of a lifetime in Katniss as well as her worries about how her participation in the film would impair her ability to make more intimate, indie films in the future.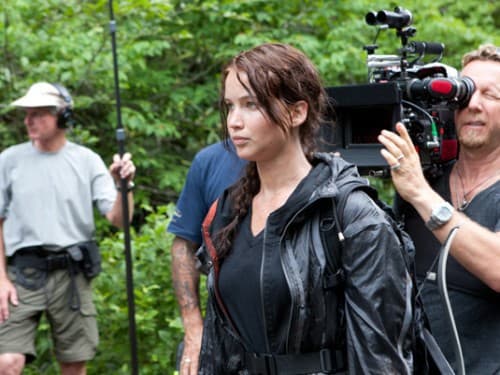 "I love my life and there's not a lot of times in a person's life where a yes or no decision can change your life forever. And it will never, no matter what, go back to the way it was before," Lawrence said of her internal debate about whether to play Katniss. "That was terrifying to me. Even on a professional standpoint, I wanted to continue to make small passion projects that I love. I still want people to be able to lose themselves in my characters. I don't want people to watch something and go, 'Oh yeah, look at what Katniss is doing. Oh, Katniss is wearing a dress.' I didn't want that and I realized that all of the no's just had to do with me being scared. I didn't want to miss out on something just because I was scared."
It is surprising, but Collins had little advice for Lawrence in capturing her heroine. Their discussions were more about story than anything else. "We mostly talked about how she came up with the idea," she admitted. "We talked on the phone a lot about the script and about things like this and that, but there were never any secrets or tips."
One of the actress' most cherished days of filming was when they filmed Katniss' debut as the "Girl on Fire."
"That was my favorite part. That dress was unbelievable! It was most of our budget! I'm dead serious," Lawrence said. "When I walked on set, Gary was like, 'That's our budget!' The line producer was going crazy over this dress. I say it was most of our budget and I actually mean it. It was beautiful and really heavy and honestly, I think they might have used a touch of CG to make it, but they didn't really even need it. It was unbelievable. And it wasn't
Dancing with the Stars
. When you read everything in the book you are kind of like, 'Oh right, like what they wore on
Dancing with the Stars
.' But [costume designer] Judianna did such an amazing job of making everything beautiful."
Director Gary Ross clearly left in the "Girl on Fire" dress, but the creative team was careful about what to film and what from the books could be left out -- all keenly aware
The Hunger Games
nation would be watching. "We took everything that we needed and that we loved from the books… that was in the script. Then we had to focus on the script. That was what we were making -- not the books," Lawrence said. "From an actor's standpoint, having your character's inner dialogue is incredibly valuable and not something that you get a lot. Normally you have to make that up yourself. So it was incredibly helpful to have the books as backup."
Lawrence believes that Ross was not only the perfect person to helm the first film in the series, but also to pen the screenplay. "Reading the script was incredible. I called Gary right afterwards and I was like, 'You did it!' It was nerve-racking. I was a huge fan of the books and I went into it, like any fan of the book, completely skeptical," she admitted. "I was looking for every single flaw. I thought that it was absolutely beautiful and just marvelous. It was just a beautiful war drama."

Ross captured the story in the screenplay, but when Lawrence arrived on set to film with co-stars Liam Hemsworth and Josh Hutcherson, she was astounded at how impeccable he was leading the page-to-screen effort. "He's just one of those directors that genuinely knows everything," Lawrence said, smiling. "First day on the set, he just blew me away."