The glory of John Carter is how the film manages to be a blockbuster and a story that feels equally Shakespearean in its ability to capture royal intrigue and passionate protagonists.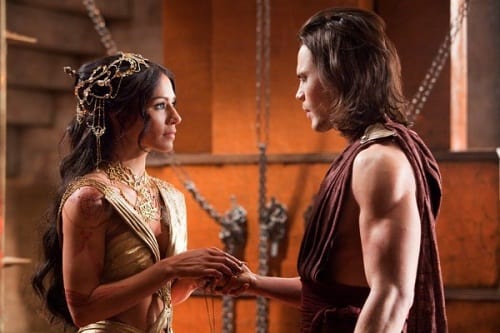 Based on the books that introduced John Carter by Edgar Rice Burroughs, the Walt Disney film has to alter its themes slightly from the novels, but fans of the author should be pleased seeing their hero on screen 100 years after his literary debut. Director Andrew Stanton knows his Carter.
The helmer's first live action feature after his masterworks
Wall-E
,
Finding Nemo
and
A Bug's Life
works largely due to his history of never sacrificing story for the power of the visual. Stanton's command of
John Carter
is also enhanced by his lifetime adoration of the book series.
The story of John Carter the man is a classic tale of a reluctant hero finding his voice. We meet our title character as a Civil War vet escaping the war in the Old West. When he thinks he has found the gold he had been seeking he awakes unexpectedly on the landscape of Mars. There he meets Tars Tarkas (
Willem Dafoe
), a native Martian who marvels at Carter's ability to defy gravity. Seems that in the breathable atmosphere of Mars, our hero can leap into the sky and possesses superhuman strength.
Stanton's epic has both vastness and intimacy as his story shifts through flashbacks to Carter's time on Earth. In the hands of Kitsch, the title character is human, yes, but possesses the inner strength to lead and liberate. The former
Friday Night Lights
star lets us know that a hero is born through his performance, particularly in one scene on Earth. As rain falls, his tears signify the tapping of the beginnings of a hero being born.
Visually,
John Carter
is stunning and it's one of those blockbusters that doesn't forget to drive its story with plot-moving emotion emanating from its characters. Mark Strong stars as a mysterious being pushing
Dominic West
's power-driven Martian madman who is consumed with his effort to rule the planet. Both actors bring devilish delight to their roles that is a necessary commodity in any hero origins story.
As this is a Disney film and it features a princess --albeit a Martian one -- we have to say that Lynn Collins nails it, and in the process raises the bar for future actresses seeking to join the studio's esteemed list of royal ingénues. Her chemistry with Kitsch is electric. The will-they-or-won't-they storyline never drags down the action and is what we are talking about when an epic scope film still needs to hit those emotional notes.

The film concludes leaving the audience wanting more. There was some discussion about Disney dropping the last half of the film's title some months ago. Where now we have John Carter, it was once known as John Carter of Mars. By the closing credits, it is established that he is indeed John Carter of Mars and this adventurer is only getting going.