John Carter stormed into theaters last week and banked over $100 million internationally in its first week of release. The film is based on the character created by author Edgar Rice Burroughs and stars Taylor Kitsch as the title character. Once Carter lands on Mars, he meets a native Martian, Tars Tarkas (Willem Dafoe) and a princess named Dejah Thoris (Lynn Collins). He must decide whether to fight in the burgeoning civil war between Martian species led by the mysterious Matai Shang (Mark Strong).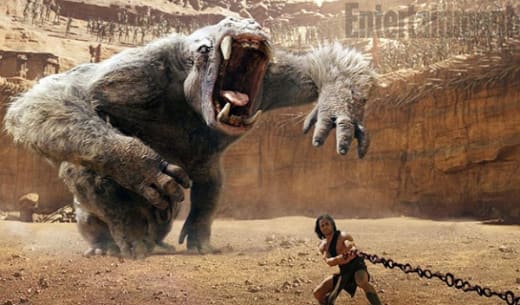 Disney's film has plenty of action, intrigue, romance and above all… great
John Carter quotes
.
Dejah Thoris:
A man can change his armor but not his heart. |
permalink
Kantos Kan:
I hear that you are incredibly dangerous... take me hostage.
John Carter:
What?
Kantos Kan:
Take me hostage...
John Carter:
Are you alright? |
permalink
Matai Shang:
We do not cause the destruction of a world, Captain Carter. We simply manage it. Feed off it, if you like. |
permalink
John Carter:
We did not cause this. But this very night, we will end it! |
permalink
John Carter:
I am John Carter from Virginia.
Tars Tarkas:
Virginia!
John Carter:
No! John Carter from Virginia! |
permalink
John Carter:
Good God... I'm on Mars. |
permalink
Tars Tarkas:
When I saw you, I believed it was a sign -- that something new could come into this world. |
permalink
Dejah Thoris:
Our world is at war, and Earth is next. Will you stay and fight for us? |
permalink