Katy Perry is making the jump from pop superstar to queen of the 3D concert movie with Katy Perry: Part of Me. The Grammy-winning artist is offering her fans a chance to walk the red carpet with her when the film premieres this summer. Considering the film is from the same studio that brought us Justin Bieber: Never Say Never, count on this movie scoring with the singer's hardcore fans.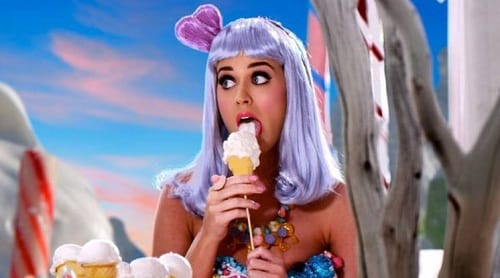 Paramount Insurge Pictures and Twitter have combined forces to offer her fans multiple opportunities to shape the film as it is being put together. Head to
Perry's Twitter page
and follow the musician and you will be shown exclusive content from the upcoming film as well as be registered for that premiere prize.
"
Katy Perry: Part of Me
is a really fun and engaging movie that celebrates every aspect of Katy's life including her relationship with fans," said Amy Powell, President of Paramount Insurge Pictures. "What better way to kick start the filmmaking process than by inviting her millions of fans on Twitter into her world."
Check out a video of Katy dishing the "Golden Ticket!"