Movie Fanatic Round Table: Talking Trailers, Snow White & Wonder-Con
by Joel D Amos at . Comments
We've convened the Movie Fanatic Round Table panel of experts once again to talk about the crazy week in trailers. Also on the docket, which of the Snow White films are we most looking forward to seeing? Joining Movie Fanatic Managing Editor Joel Amos is Ryan Downey of MTV.com, Roth Jennings of AMC.com, Don Kaye of MSN.com and Gerrad Hall of thesevensees.com.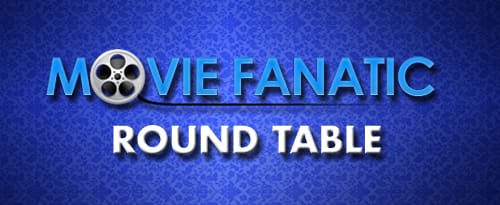 1. Crazy week for trailers with no less than The Hunger Games' Countdown trailer, Abraham Lincoln Vampire Hunter, Snow White and the Huntsman, Prometheus, Cabin in the Woods, The Raven, Piranha 3DD, Lockout, Dark Shadows and more… which was your favorite trailer and why?
Roth:
A great week for trailers! The list includes some of my most anticipated films of this year so it's difficult for me to narrow it down. I've seen
The Hunger Games
so I can no longer really look at the marketing materials with the perspective of someone who is looking with fresh eyes/a blank slate. I'm actually fairly excited for it to open so that I can begin discussing it with friends who've yet to see it.
Don:
Oh there's no doubt in my mind: The
Prometheus
trailer left everything else in the dust. Nothing even came remotely close to the scope and vision of that two-and-a-half minutes -- which makes me even more excited to see the other two hours of the movie! But seriously, a number of the films mentioned above still have quite a ways to go before they convince me, and some of the trailers we saw seem to still be finding the right tone for the film they're trying to sell. For
Prometheus
, the tone, imagery and overall power of the clip -- combined with the fact that this is the kind of movie I've been dreaming about for a while -- won the week.
Gerrad:
I don't think I've met anyone yet who doesn't love the trailer for
Show White and the Huntsman
. With each incarnation of it, the action, the visuals, not to mention the dark tone and intrigue that comes along with it, lure me in more and more. Is Charlize this year's Heath Ledger? I can't wait for June 1st to find out! Kudos to Lionsgate for milking the momentum for
The Hunger Games
right until the end. Everyone loves a good countdown clock, and this trailer kind of makes me want to venture out to a midnight showing just to witness the excited fans. I have to give an honorable mention to
Abraham Lincoln: Vampire Hunter
. I was over the vampire craze before it even started, but I have to admit that this new trailer has piqued my interest. And it's about time we see Lincoln for the true badass he really was.
Ryan:
It was a crazy week for trailers, indeed!
Prometheus
got me the most excited. I haven't felt enthusiasm about an
Alien
related movie since the third (which I enjoyed). I went to a screening of
Alien
about two years ago in Los Angeles where Ridley Scott spoke about
Prometheus
a bit. It was absolutely captivating to watch
Alien
on the big screen again, which totally got me in the "zone" mentally for this prequel. The trailer has raised my expectations even higher. Conversely, I love Johnny Depp, I like Tim Burton and I remember
Dark Shadows
, but man, that trailer looked worse than the
Willy Wonka
remake.
Joel:
Even though I've seen the film twice and know it inside and out, there's something truly haunting about that
The Hunger Games
countdown trailer. I agree with Gerrad, the chill-inducing effect of a countdown, especially one that produces the cast literally running for their lives, is unmatchable. That being said,
Prometheus
stole the week for me. It simultaneously blew my expectations out of the water, showed me the film was not what I thought it was, and compelled me to delve further into the film's viral campaign. Good job.
2. Which was the most effective in getting audiences excited about the property?

Roth: I thought that the Snow White and the Huntsman trailer did an excellent job of building anticipation for the film (particularly the extended preview). I love Joss Whedon and was a big horror fanatic as a kid so I really look forward to seeing Cabin in the Woods. But for me, this is the year of Prometheus.

Don: Based on the buzz and reaction at WonderCon, I would have to go with Prometheus. I don't think any other trailer got quite that kind of reaction in the ballroom at the Anaheim Convention Center, although I think Battleship and The Hobbit were both vying for second place.

Gerrad: Considering that we've seen previous versions of trailers recently released, the debut of material from Prometheus I think really has audiences talking. I watched it three times to try to make sense of what I was seeing -- and not in a bad way. I think it accomplishes exactly what a trailer should in terms of laying the groundwork of the story but also teasing you just enough that you're partially confused but want to know more.

Ryan: Obviously the enthusiasm is high for The Hunger Games. Of course, as my friend and film critic Dave White pointed out in a Facebook post recently, you've got fans of the books complaining about this or that being changed and then you have hipsters and cinephiles pointing out that Battle Royale did it better. I personally don't really have a dog in that fight. Piranha 3DD looks like it's more or less the same movie as the last one, but with a few twists; could be great fun again.

Joel: Prometheus scored on so many levels. They also released a more character-driven trailer internationally the day after, and with the two combined, those that were excited about the film are now drooling with anticipation.
3. Which of those movies are you most excited to see and why?

Roth: I am a huge admirer of Scott's early science fiction work. It's true that it is limited, which in some ways, makes the impact all the more significant. Prometheus has the potential to deliver everything I love about sci-fi: A philosophical/theological element, a socio-political reflection on our current world that is made more palatable with the distance that sci-fi creates and an entryway into an unknown, textured alternate reality inhabited with richly drawn characters who are all the more relatable in their distinctions from the people we believe ourselves to be.

Don: Again, Prometheus. The combination of science fiction and horror hits a special sweet spot for me, especially when you mix large-scale, sort of cosmic sci-fi with the dread and unsettling fear of true horror. It's been a while since we've seen a truly terrifying yet visionary sci-fi/horror hybrid.

Gerrad: The Raven and Chernobyl Diaries both look like great thrillers. The Cabin in the Woods will definitely have my palms sweating. Piranha 3DD looks, well, a bit fishy... pools are the only place I like to swim and now I'll have this trailer to create more water-based anxiety. Dark Shadows ... hmmm, I want to see more. I'm sticking with Snow White and the Huntsman on this one. I think it's going to be one of the best movies of the summer. And if it isn't, then Universal Pictures has created a fantastic marketing campaign and buzz!

Ryan: Right now, Prometheus. I'm so bored with movies that look like video games. It's rare when an Inception type film comes along that has such a strong story, great acting and adept blending of real stunts with CGI and I'm hoping Prometheus turns out to be something along those lines, versus yet another snooze-fest with no stakes and zero connectivity.

Joel: Obviously Prometheus, but out of the others… Snow White and the Huntsman. The idea that this is not our grandmother's Snow White is compelling, but Charlize Theron as the Evil Queen is pure gold. Look for her to literally chew the scenery on that one!
4. Between Mirror Mirror and what we've gleaned from Snow White and the Huntsman trailers, which Snow White movie has your vote?

Roth: Snow White and the Huntsman has entirely eclipsed Mirror Mirror as far as I'm concerned. First the aesthetic of The Huntsman is so much more engaging. It presents that world in a way that we've never seen before, but even in its most fantastical elements it resonates as grounded and believable. It is also stunning to look at. Additionally, I've interviewed both Tarsem Singh and Rupert Sanders and it becomes clear rather quickly that (as talented as he is) the former is truly only interested in delivering a visual experience. Sanders it seems seeks to deliver an emotional and psychic experience via a heightened visual reality which for me, is the preferred approach. I happen to love fairytales and I am looking forward to seeing this one done justice.

Don: Snow White and the Huntsman takes it easily. I've seen Mirror Mirror and while I can't go into detail at this point about the movie (I think there's still an embargo on), the approach that Snow White and the Huntsman is taking is much more appealing to me. Again, that's not a knock on Mirror Mirror or its quality (or lack thereof) -- it's just personal taste. SWATH looks like dark fantasy with some real teeth to it, while Mirror Mirror is taking a much more sort of heightened fairy tale approach.

Gerrad: If I was a ten-year-old girl, I'd have to go with Mirror Mirror. From the costumes, the visual style, the incredibly likable Lily Collins and the fun dwarves, it is the epitome of a Princess story and should be a hit with younger audiences. But since I'm not a ten-year-old girl, Snow White and the Huntsman completely gets my vote. I can't wait to see Charlize Theron join the ranks of Glenn Close, Kathy Bates and Sharon Stone as best female movie villains.

Ryan: It's all about the Evil Queen, to me, and Charlize Theron is such better casting! And Snow White and the Huntsman seems to be very Lord of the Rings feeling, versus the more overt campiness of Snow White. With that being said, I'll be at least somewhat excited to see them both. But Huntsman seems to be the odds on favorite, right?

Joel: Love Tarsem Singh and his visionary films. But, have to give this one to Snow White and the Huntsman. It's just more my speed and Mirror Mirror is truly a film for families. In many ways, they should not be compared other than the fact that they share the same heroine.
5. For you, what was the biggest news to come out of last weekend's WonderCon?

Roth: I can't think of much news out of WonderCon, mostly new videos and images... But perhaps I missed something in my loopy weekend!

Don: That the Anaheim Convention Center is not really a great locale for the show, especially with volleyball and cheerleader competitions happening down the hall....I don't seem to recall any really huge news coming out of the show, just some big premieres for all those new trailers. Did I miss something?

Ryan: So much news about The Amazing Spider-Man! Personally, I think another (yawn) origin story is pointless and unnecessary (is there anybody who cares about Spider-Man who doesn't know the very basics?), but, with that being said, it's got a great director and a strong cast, so... Here's hoping!
Joel: What struck me the most was honestly the unbridled excitement for Abraham Lincoln: Vampire Hunter. Fans were looped around the convention center hallway three times waiting to get into that presentation. To think that that many people would be that excited to see a movie about a president from the 1800s who slays vampires… is astounding and speaks to a nerve that Seth Grahame-Smith has struck.