Neighborhood Watch: Fox Pulls Promos Due to Trayvon Martin's Death
by Joel D Amos at . Comments
Worried that the connection to the tragic death of Trayvon Martin was too much, Fox has pulled all trailers and posters for their upcoming film Neighborhood Watch from Florida broadcast stations, movie theaters and the like.
The studio has promised to issue new promotional materials that will not hit as close to home as the movie poster currently does in the wake of the now-infamous Trayvon Martin case.
Martin was shot and killed by a Florida neighborhood watch captain in February, igniting a firestorm of rage across the country. The movie poster for the Fox film features a street sign with the film's title and bullet holes strewn throughout.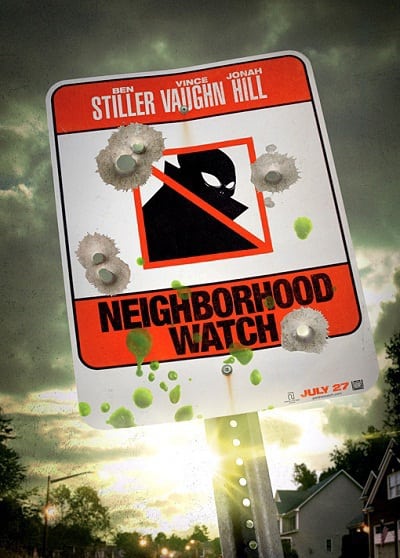 "The movie, which is not scheduled for release for several months, was made and these initial marketing materials were released before this incident ever came to light," a Fox spokesperson said in a statement. "The teaser materials were part of an early phase of our marketing and were never planned for long-term use. Above all else, our thoughts go out to the families touched by this terrible event."
Whether the studio will pull its ads for the Ben Stiller, Vince Vaughn and Jonah Hill-starring film across the country is yet to be announced. What do you think? Is the studio being too sensitive or is this the right move? The film itself is not truly about a group of guys strolling the streets extolling justice, it is an alien invasion movie. But, sometimes, current events eclipse a studio's best intentions.
Check out the film's trailer: