Todd Phillips knows a thing or two about throwing a cinematic party to hilarious results. The producer of Project X and writer-director of Old School, The Hangover movies, Road Trip and Due Date has pushed the comedic envelope to great success. When it came to his latest movie, directed by first time helmer Nima Nourizadeh, he sought to set his past successes aside and increase the ante of film fun.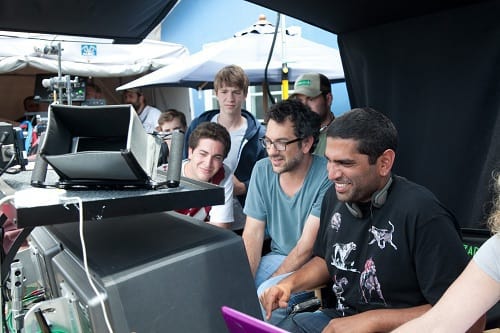 Phillips has taken the mantle of party movie king and sent that moniker to the moon with the extraordinary madness that is the soiree at the center of
Project X.
"The interesting thing to me was making it for this generation. You look at movies that I grew up on, like
Risky Business
for example, and it's like, how would you tell a high school story differently nowadays using the way kids grow up on YouTube and things that they find, clips they send to each other and things that make them laugh. In a weird way it was a reinvention, or attempted reinvention, of a high school movie," Phillips told Movie Fanatic.
The thing that
Project X
shares with past teen party movies is that while our protagonist is breaking all sorts of rules, we want him or her to get away with it. "Whether it's Ferris Bueller who you're rooting for the whole time or
Risky Business
, you're always rooting for them to pull it off because ultimately their intentions were pure. And that's the only thing that ever matters, with all these movies, even in
Old School
and
The Hangover
-- they actually just wanted to have a nice thing and it spirals into something way more than they bargained for. It's not just high school comedies that that's done for," Phillips said. "But yeah, I think that's the goal is that when you're watching this movie, you're going, 'Oh my God, I just hope he gets away with it. I hope that this just all gets cleaned up somehow and he gets away with it.'"
However extreme, on the set there was a line that went from perfunctory to profane. "We definitely had so many outrageous things we wanted to bring to the movie," director Nima Nourizadeh added. "I think the style lends itself to sort of feeling so real and fresh and new but there's always a line you want to try and not cross. We don't want to go into anything that's so vulgar."
Phillips, after years towing a line between funny and far out, in the end listens to his audience. "There is a line but you don't go into that getting into it. It's not even so much about, 'We can't cross this thing here.' The audience ultimately tells you what the line is," he said. "So when you start screening the movie for people it's as much to find out where the joke is as it is to find out where the line is. You don't want to necessarily rein yourself in while you're shooting it. That's the magic of editing. You basically discover that line as you go along in the process."
The idea for it to be a "found footage" type film was there from the movie's inception. The fact that many of this ilk, such as the recent
Chronicle
, are hitting theaters lately hardly concerns Phillips. "I don't know that the found footage aspect of this, or any of those other movies, is really the allure. I really think it's ultimately a gimmick quite honestly. It's just a way into the story," Phillips said. "Every movie is looking for a way into the story. This way in is these kids are documenting this kid's 17th birthday. We wanted to do a high school movie that's totally caught by the kids in the movie. Outside of that, the movie takes on its own life and quite frankly most audiences that are out there with a critic eye are watching and aren't thinking anymore, 'This is a found footage movie.'"
For the director, he found the process of shooting a welcome challenge. "It can be a freeing thing, we can shoot lines that aren't in the script and put it in the movie because it works at that moment. It can only help us on any given day," Nourizadeh said. 

The film method provides roadblocks that Phillips thinks make filmmakers better. "Every time you put a restraint on yourself in the process, it always helps," he added. "Putting these little obstacles in front of you… that's a fun part."

One of the most impressive aspects of the entire film Project X is the demand placed on the hundreds of extras. Above all else, how does a director keep that type of electric energy going take after take, for two months? "It's the choice of extras. There are so many components," Nourizadeh said. "Having music playing -- we had a DJ playing for four and a half weeks of nights -- it was like, 'keep everything up.'"

"You set the tone on the set that you want on the film," Phillips added. "You had to make everyone there absolutely believe that they are part of something, not treating them like cattle. There are 200 kids showing up there every night for quite honestly not a lot of money. It's about making them feel part of the process."