Project X takes the party movie premise laid forth by Animal House, Risky Business and Dazed and Confused and turns it entirely on its head. The film is from producer Todd Phillips (Old School, The Hangover) and features a first-time director, Nima Nourizadeh, mining the fruitful subgenre of the found-footage movie.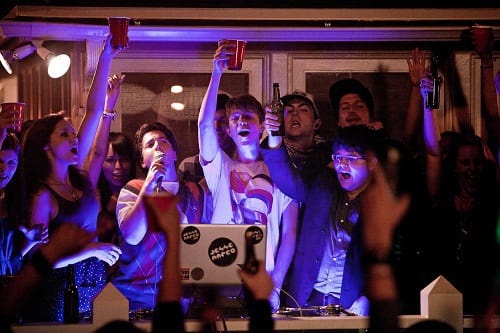 The premise is simple enough. Thomas Mann portrays a high school kid celebrating his seventeenth birthday in his Southern California hometown. His parents are heading out for the weekend, and his friends, Costa and JB, have done everything they know to do in order to guarantee a party that will not only mark their friend's b-day, but also put them on the social circle map at school. Throwing a party that makes a P. Diddy bash seem tame will tend to do that.
Established early, a friend who adores the art of filmmaking is around to capture every second of the big day. From school uneasiness to nighttime debauchery, our cameraman is our eyes and ears. We salute
Project X
for its taking the challenge of giving a wide scope that is required of a party movie, particularly where said fete is held at a vast home that includes a pool. Yet, Nourizadeh manages to capture the quiet moments amongst the mayhem that drives the story and gives it its heart.
There are a few moments in the film that cause pause and no they're not about how far the party goes. It is with the terms some of the characters use to put down other people. There's plenty in the alphabet of assault that can be used to solicit laughs and insults. But, there is no reason in 2012 that a film should feature anyone saying anything derogatory about someone's lifestyle choice. Good jaw-dropping moments
do
abound as things get so out of control that even the President of the United States and all his power could not stop it.
There is pushing the envelope and there is this movie. To quote our favorite How I Met Your Mother character, the Project X fest on film is "Legen… wait for it… dary!" Imagine organized cinematic chaos where everyone is having the time of their lives. Then, put yourself firmly in the picture and there is the beauty of the latest Phillips-inspired party movie.
The alternative take on the found-footage film movement moves us with Project X. Who cannot identify with the feelings of a teenager whose parents' are calling while a raging party goes on around us? Mann captures those moments perfectly and the talent that was first shown off in It's Kind of a Funny Story flourishes with his latest effort. He also has to perform a balancing act between the girl he knows he should adore and the one whom everyone adores, who now suddenly have their sights on him.

Mann and the filmmaking team behind Project X offer lessons and redemption that balance the yin of the depravity with the yang of the core emotional need required to drive a film.