Project X, the found footage party comedy, is unlike anything Movie Fanatic has ever seen. The film explodes with life as it literally ignites on screen. The movie follows three high school kids, Thomas, Costa and JB. It's the former's seventeenth birthday and the trio decide to throw the party of all parties, all in an effort to put them on the high school social map. Unfortunately, they do throw a party that audiences can only wish they'd experienced -- and their neighborhood will never be the same.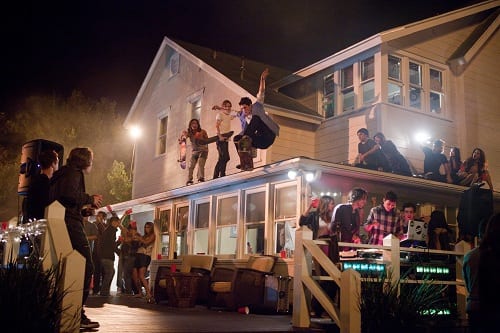 At its core, the film is a comedy. As most comedies do, the movie has a plethora of fantastic lines. So, sit back and enjoy the madness of our best of
Project X quotes
.
Thomas:
I'm Thomas Cub. It's my birthday today. |
permalink
Costa:
We'll have a whole day to fix this place up like new.
Thomas:
What about this? (points to the camera) What if my parents see it?
Costa:
Nobody's going to see this but us, I promise.
Jimmy Kimmel (on his show):
So you know, this high school party in Pasadena -- have you seen the footage? |
permalink
Costa:
Tonight's about the girls we never had a shot at. Tonight's about changing the game. |
permalink
Party Goer:
There's a midget trapped in the oven!
Thomas:
What are they saying?
Kirby:
I don't know. All I heard was midget and oven. |
permalink
Costa:
Even Wheelchair Robert got a handjob! |
permalink
Costa:
It's on till the break of dawn! |
permalink
Costa:
Wear something tight. |
permalink
Costa:
The only thing you're working on is diabetes you fat (expletive). |
permalink
Thomas:
Mom, dad, it's me, Thomas. Um, where do I start? This is supposed to be a small get-together. I wanted to be cool for one night. You know, I wanted girls to notice me. Then things got a little out of control. |
permalink