Bringing a beloved book to the big screen can be a thankless task. Thankfully for fans of the book Salmon Fishing in the Yemen, by author Paul Torday, they have a stellar cast (Ewan McGregor, Emily Blunt and Kristin Scott Thomas), filmmaker (Chocolat director Lasse Hallstrom) and screenwriter (Simon Beaufoy, Slumdog Millionaire). Even that creative power can sometimes fail to add up to a page-to-screen sizzle.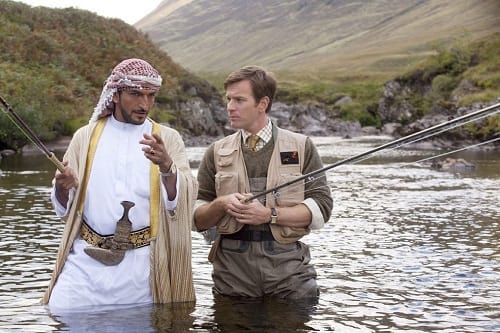 Salmon Fishing in the Yemen
can especially thank Beaufoy as he has skillfully put together a story that keeps the spirit and tenor of the book, yet manages to work on the silver screen as well.
In many ways, this is Blunt's movie to anchor. She is the sun that all the film's characters circle. The actress sets the tone early through a voice-over that Hallstrom uses through the simplicity of her exchanging emails with McGregor's Dr. Jones. That is also when the actor's sensational characterization takes root. We truly get a feel, inside and out, of who this fisheries expert is and who he wants to be.
The government of Great Britain is eager for a "good news" story to emerge from the Middle East. After the Tony Blair blind following of the U.S. into war in Iraq, he is suffering the consequences of PR disasters around every turn as the war in that country and Afghanistan continues to claim local casualties.
Hallstrom could have taken his film into political overtones, but wisely doesn't.
Salmon Fishing in the Yemen
is more of a people story, regardless of their geography. Each character is beautifully flushed out and it allows the actors to shine. McGregor is his usual terrific self, while Blunt shows new depths in her role. The scene stealer in this film is Thomas, who comes into every scene like a hurricane and usually leaves behind her wildly winded folks who just experienced her persona.
The most subtle of performances arrives from Amr Waked as the Sheikh. His presence is powerful, yet emotionally vulnerable to the whims of his people that he is trying to help. He is using his millions to make a difference in his country. This is not just an effort to feed his passion for fly fishing. The Sheikh firmly believes that the project will improve the way of life of his people. From the irrigation that is now possible because of the dam built to accommodate the salmon, he sees a desert landscape that can be turned to lush agriculture. As many in his country believe he is in bed with Western influences, there is an insurgent effort to stop him. His frustration with this is palpable, and oftentimes explodes through him in angry rants. Yet, as most fly fishermen can attest to, there is a zen nature about him that always shines through.

Then, there is the romantic aspect of the film. Our leads are drawn to one another clearly, but it is not as simple as a boy meets girl, girl meets boy storyline. The strength of Blunt and McGregor make this believable and even as the odds of their project's success seem stacked against them, so do the chances these two can become a couple. That is what is so wonderful about Salmon Fishing in the Yemen -- it can be many things to many people. All told, it is a fantastic foray to the movies and reminds us what the power of film can achieve.