How I Met Your Mother fans, have you wondered what one of your show's fave cast members, Cobie Smulders, did on her sabbatical from the hit show? Why, she starred in the upcoming The Avengers. Marvel.com has released two new photos of Smulders as SHIELD agent Maria Hill.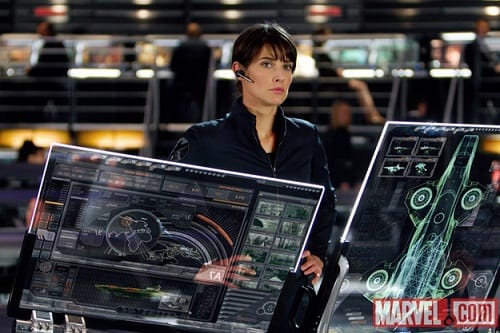 Smulders is part of one of the most well-known casts of 2012: Robert Downey Jr. is Iron Man, Chris Evans plays Captain America, Chris Hemsworth stars as Thor, Samuel L. Jackson is Nick Fury, Tom Hiddleston is Loki, Scarlett Johansson is Black Widow, Jeremy Renner is Hawkeye and Mark Ruffalo is the Hulk.
Fresh off the debut of the latest
The Avengers trailer
arrives these new pictures. Prepare for a lot more to look at as the release date of May 4 gets ever closer.