On the page, Dr. Seuss' The Lorax is a piece of work that essentially feels like a dire warning. The big screen version doesn't pack that kind of punch, but that doesn't mean it's not Seussian.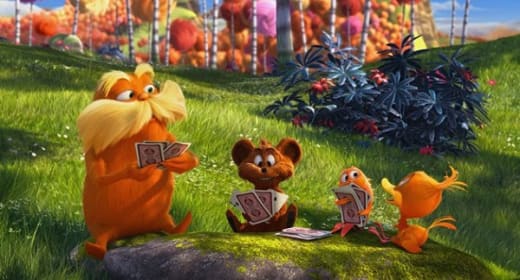 Although
Danny DeVito
voices the title character, the real stars of the film are Ed Helms as the Once-ler and Zac Efron as Ted. The center of the story truly is about the Once-ler and his invention of a multipurpose item that only can be made from the tops of the trees in an astoundingly colorful Dr. Seuss-type forest.
As readers of the Seuss book can attest to, the screen story bears little resemblance to the literary one. In the film
The Lorax
, we meet Ted whose teenager is on a mission to find a single tree to impress a girl. See, they live in a perfectly manicured, albeit plastic world that contains not one natural tree. Everything arbor is gone, forever lost from what… we don't know. When Ted's grandmother (Betty White) tells him of the Once-ler, Efron's character heads out on an adventure attempting to seek the mysterious soul.
After some back and forth, the audience is finally treated to the story of Helms' character -- how, as a young man, he went out to seek his fortune, never realizing the doom he would produce with greed.
Enter the Lorax, a short creature with an orange colored body and flaming yellow mustache. He is charged with protecting the trees and, therefore, the animals and nature that thrive because of them. When the Once-ler chops down his first tree, there appears the Lorax. He is full of message, but little might and cannot stop Once-ler from doing his damage.
The Lorax also moves its story through many musical numbers. They are extremely catchy and a few quite sensitive. Although we enjoyed them, it felt like the film was a budding blueprint for a potential Broadway musical -- not that that is a bad thing. And why cast Taylor Swift as the girl who catches Ted's eye and not have her sing?

But the exposition through song got us away from the story that Seuss initially wrote. The Lorax has been criticized by conservative groups for being a message for the left. In fact, Movie Fanatic feels that if the film was literally based on the book, the tone would have felt much sharper in its extolling the virtues of thinking globally and living locally.