The Lorax worked his magic yet again as the Dr. Seuss tale won the box office for a second straight week with $39.1 million, beating back the competition of Disney's John Carter. The Mars-based action film made its debut to the tune of $30.6 million for a second place finish.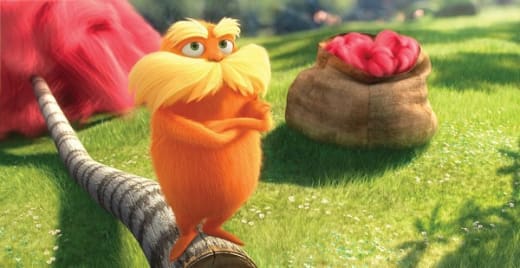 While some may say it's a stumble for
John Carter
, Movie Fanatic would argue otherwise. The film earned just over $100 million globally. We remember a time when the $100 million mark was the point at which a film was called a blockbuster. So, let us be the first to say,
John Carter
is a blockbuster!
The found-footage party movie
Project X
added another $11.6 million to its total of $40.1 million in its second week of release and landed in third place. The Elizabeth Olsen horror flick
Silent House
debuted in fourth place with $7.01 million.
The real life Navy SEALs-starring
Act of Valor
continued its battle for box office supremacy that began with its debut at number one three weeks ago. The film banked $7 million to score fifth place to bring its total to an impressive $56.1 million.
The good news for Hollywood continues as the box office blues of 2011 seem to be a thing of the past. The top three movies of the weekend totaled $71.3 million in total gross -- not bad at all.
The box office top 10:
1.
The Lorax
, $39.1 million
2.
John Carter
, $30.6 million
3.
Project X
, $11.6 million
4.
Silent House
, $7.01 million
5.
Act of Valor,
$7 million
6.
A Thousand Words
, $6.4 million
7.
Safe House,
$5 million
8.
The Vow
, $4 million
9
. This Means War
, $3.8 million
10.
Journey 2: The Mysterious Island
, $3.7 Million