Will Ferrell is proving he can do anything. Of course, he is most known for his impeccable comic abilities, first shown to a wide audience on Saturday Night Live. His dramatic chops are on full display in Everything Must Go and Stranger Than Fiction. Now, he is busting out of his comfort zone with a comedy completely in Spanish, Casa de mi Padre.

Ferrell portrays the son of a rancher who adores his father, yet the family patriarch believes that Ferrell's brother is more suited to take over when he can no longer lead. When drug dealers threaten their well being, it is Ferrell who must step up. The film is hilarious (stay with Movie Fanatic for our review March 16).

In honor of his latest film, we proudly present the Top 10 Movies of Will Ferrell.

10. The Other Guys
What started with an Oscar telecast bit evolved into an action comedy called The Other Guys. Ferrell starred with Mark Wahlberg and the pair had karmic comic chemistry. In this pairing, there was no real straight man versus comic relief. Both characters inhabited both roles and in the hands of Ferrell and Wahlberg, it is cinematic gold.
9. Megamind
In
Megamind
, the comic actor is an animated bad guy whose hero has suddenly been defeated. Ferrell's voice acting talents shined as Megamind's despair and wicked wildness is what made the film.
8. Stranger Than Fiction
Starring with Oscar winner Emma Thompson, what has Ferrell done? For one, the film established him as an all-genre actor worthy of consideration for more than just slapstick and silly parts. As a writer who appears to be narrating his own story, the actor blew us away on so many levels. His dramatic scenes reveal a further depth to his cinema capacity that should not be a surprise. Talent is talent.
7. Casa de mi Padre
Again with the questions, i.e.… why is Ferrell starring in a Telenova-feeling, Spanish-language film? Because everything he does, if given the right amount of solid script and casting lucky stars, turns to gold. And
Casa de mi Padre
is seriously platinum. His Spanish is top notch. The story is chock full of hilarity. And overall, Ferrell has proven that there is nothing he won't tackle.
6. Elf
One of Ferrell's top 10 movies is also one of the Top 10 Christmas movies. What's not to adore about Elf? The actor solidifies his reputation as a comic actor whose performance can be so grounded in reality that audiences pull for his ridiculousness.

5. Zoolander
The Ben Stiller film Zoolander gave Ferrell one of his greatest, if not his greatest, characters in Jacobim Mugatu. We hear the sequel is moving forward. One thing Stiller: More Mugatu!

4. Step Brothers
One of Ferrell's great go-to partners is John C. Reilly. In Step Brothers, they are the titular description. You know that will be genius. The film does not disappoint as Ferrell continues his career journey into making movies that can be farcical in nature while also being surprisingly heartfelt.

3. Old School
Then there's Old School. Talk about a film that doesn't apologize for what it is. "We're streaking," Ferrell says running down the street. In that one scene the actor showed there is no limit to the lengths he'll go to in order to get a laugh. 

2. Talladega Nights: The Ballad of Ricky Bobby
Speaking of going far, how about running around a racetrack in your tighty-whiteys screaming you're on fire? In the talented embodiment that is Ferrell, Ricky Bobby became not only one of his most terrific films, but he originated a character that has become a national icon.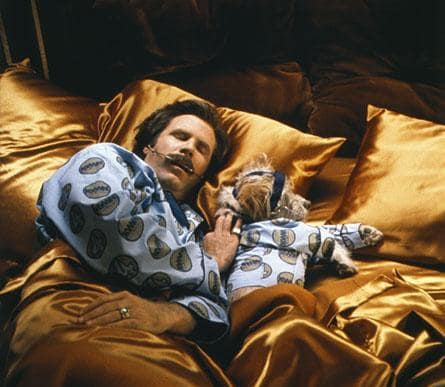 1. Anchorman
Speaking of icons... on the local level... after having lived in San Diego for over a dozen years, staying classy was never as joyous as when we witnessed Ferrell as Ron Burgundy asking us to do it. Toss the
SNL
vet's title character in with Vince Vaughn, Steve Carell, Paul Rudd, Ben Stiller, Luke Wilson, Christina Applegate and Fred Willard, and you have one movie that's begging for a sequel that can't afford the stars its cast has become.