Sam Worthington has spoken openly about his disappointment with Clash of the Titans. He clearly believes in the story of Perseus, son of Zeus, and saw Wrath of the Titans as an opportunity for all involved in the series to redeem themselves. The first Titans film wasn't that awful at all -- it just became the poster child for the backlash against the Hollywood 3D craze. So… is it hard to believe that Wrath of the Titans is in an entirely different league of goodness than its predecessor?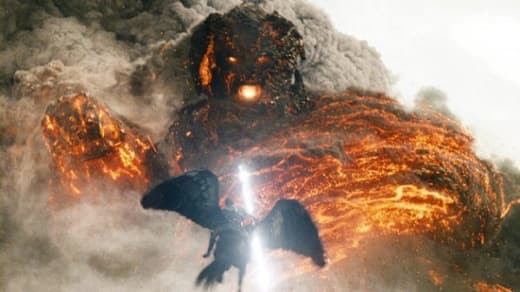 It is ten years after Perseus has epically defeated the Kraken and he is living comfortably as a widower raising his decade-old son Helius. His father (Liam Neeson) appears after Helius has gone to sleep to talk to his child about the evil that approaches. It seems that Zeus and Hades' (Ralph Fiennes) father, Cronus, has decided to make a comeback, and that is very bad for mankind and the gods of Greece.
After Worthington's Perseus politely refuses his father's request to help in what the god believes is an upcoming war, director Jonathan Liebesman (
Battleship: Los Angeles
) shifts the action to the depths of the Earth where Hades had been banished to manage the worst the planet can produce. Zeus arrives to make peace with his brother and as we have seen in the recent
Wrath of the Titans clip
, that does not go so well. Zeus is captured and Perseus must come to the rescue.
The highlight of the film is the brotherhood that is Fiennes and Neeson. The two U.K. actors offer a master class in the thespian arts in
Wrath of the Titans
. Shakespearean royal families wish they had these two portraying brothers onscreen! In the hands of these two legendary performers, the storyline which in many ways is at the heart of the film is carried by iconic actors simply beginning to hit their groove.
Worthington's Perseus is every bit the father solely worried for his son's safety and future as it appears the world is close to complete destruction. The issue Movie Fanatic has is what could be perceived as a minor one… the Australian's accent. Worthington portrays his demigod in his native tongue, yet it seems distracting given the clearly Greek-ness of it all. When Neeson and Fiennes speak in the native King's speech, it seems believable. Would having Worthington inhabit a hero that perhaps speaks with no accent at all help things? Maybe so, yet… maybe not.

After Clash of the Titans, Wrath of the Titans may feel like an Oscar-worthy movie. Between its astounding effects and 3D done right, plus the Fiennes and Neeson show, this is a film that must be seen on the big screen in 3D, and even in IMAX. For fans of the Greek god world of storytelling, Wrath of the Titans is a worthy continuance of the legacy. That might be its highest compliment.