Aimee Lagos has made quite a statement with her 96 Minutes. She wrote and directed the film that shows what happens when four individuals are on a collision course of fate. When producers are looking for the next female helmer to rival her male counterparts in the action movie genre, might we suggest Lagos.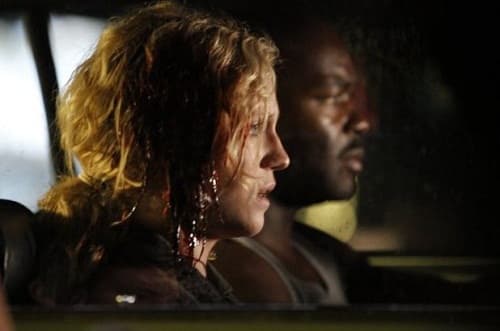 96 Minutes
has fun with time as it jumps backwards and forwards between a carjacking that brings four people together and flashbacks, which tell us how they each got there. Each did not know the other until they all wind up in that car.
The young cast is up for the challenge, led by Brittany Snow, David Oyelowo, J. Michael Trautmann, Christian Serratos and Evan Ross. Each shows that they are in perfect tune with their director's vision.
What Lagos shows more than anything is such a stroke of confidence in pacing, it's almost scary. The helmer crafts white-knuckle suspense while simultaneously only making the thrills more intense by layering on the layers of the story. In her script that is so effectively played out by her players, she manages to touch on issues of the day such as class structure and racial tensions.
It is clear who her influence is after witnessing
96 Minutes
. The beginning of the film commences like a rocket, very reminiscent of
Reservoir Dogs
. No, it's no first film by Quentin Tarantino, but Lagos' talents -- we believe -- are ever building. Also, the time-shifting method of storytelling recalls Tarantino's
Pulp Fiction
.
The city of Atlanta is also effectively used as its own character in the tale that doesn't allow itself to become limited by simply being another study of a city's dynamics with an act of violence at its center that sets off emotional reflection.
96 Minutes
makes you think, and it is also a thrill ride.