American Reunion allowed two characters who do not have names beyond their parental monikers to truly work together for the first time in the American Pie series: Eugene Levy and Jennifer Coolidge. The pair are not strangers, they are both veterans of Christopher Guest's acting troupe and have appeared together in such films as Best in Show and For Your Consideration.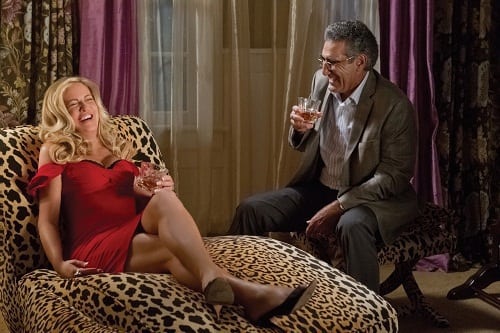 Levy originated the role of Jim's Dad in the 1999 original film, as did Coolidge with her iconic Stifler's Mom character. When both heard about the possibility that their characters would not only be finally sharing scenes, but possibly be engaged in a little hanky panky… one was intrigued and the other was not so sure.
"Well, I first heard it in a story pitch, when I had lunch with (writer-directors) Jon Hurwitz and Hayden Schlossberg. They were laying out what their idea for the story was. They were talking me through the entire thing, and I was just loving everything that I was hearing. The fact that Jim's dad is now a widower, I thought, 'Wow, that's really interesting. Shocking, but interesting.' Now, the tables are turning and Jim is giving a pep talk to his dad about the idea that it's okay to start going out and start dating. And then, he gets to go to this party that they talk him into going to, and he wanders around and opens a door and Stifler's mom turns around," Levy said.
"I just said, 'Wow, that is brilliant! That's so great!' It seemed like a no-brainer, in a way, to get Jim's dad and Stifler's mom together, but he's always been married. That was a great thing that these two characters are now going to get together. It was so exciting, that prospect."
Coolidge was down with the idea of her character having a romantic rendezvous with Levy's, but she had one request. "I thought I should sleep with Finch one last time before I do some other stuff. I did want that to happen, and I was very firm about it," Coolidge said with the straightest of faces. Hurwitz and Schlossberg eventually sold her on the idea as a form of her character growing well beyond what she did in the first movie. "They said, 'Jennifer, Stifler's mom needs to evolve and grow, and she can't just be sleeping with this young boy occasionally.' I don't know how they convinced me because I'm really stubborn, not that I wasn't thrilled to sleep with Eugene!"
We wondered where Coolidge thought her Stifler's Mom character would be thirteen years after the original film debuted. "I always pictured myself having sex with Oz (Chris Klein). I thought that Stifler's mom would move on to some other kids. The only one I wouldn't sleep with was Stifler because they wouldn't go that far, but I have to say that I wouldn't mind that, at all," she said and laughed. "But it never, in a million years, occurred to me that they would hook me up with an adult. I'm glad it all worked out, but it had never occurred to me that I could end up with Jim's dad. Seducing Finch was great because he didn't know what he was doing, but it's even better to seduce an older man that doesn't know what he's doing."
It's hard to believe, given the fact that Levy is the only performer in the franchise who has been in every single
Pie
movie -- even the direct-to-DVD ones -- that the actor had to be convinced to even consider appearing in that initial instant classic. "When I first read the script, it scared me. I said, 'No, I can't do this movie.' My manager, at the time, said, 'Well, you should go and take a meeting.' I said, 'Why? It's just too out there for me. This is a kids' movie. Why would I want to be in a movie I wouldn't go see?' He said, 'Just go talk to the directors.' So, I finally went in and met the Weitz brothers, and that was the turning point for me," Levy said.
"They were really smart and really had a great sense of comedy, and they were really two young, brilliant guys. American Pie could have gone either way. It was so raw, sexually speaking, that under the wrong type of supervision, it could have crossed the line into territory that turned off audiences. Paul and Chris Weitz kept everything exactly where it should be. They were doing a movie that could have been bad taste, but it wasn't bad taste. They kept it on the right side of bad taste. They were also character-oriented. The script was really an amazing script, and it was a smart movie. It wasn't just a series of sex jokes. It was a movie where indelible characters were created and the movie-going public fell in love with these characters."

Now that this reunion is over, will there be any reunion anytime soon of the Christopher Guest troupe in a new full-length film comedy?
 
"Well, we had a little reunion at the Oscars," Levy proudly states.

"But, to answer that question, there's nothing on the horizon. We really didn't want to do another movie that's a cookie-cutter movie, where you've got the same kind of style, but you just change the subject. Everybody is doing that fake documentary style now. Even TV shows are using that fake documentary style. So, there's nothing novel about that, anymore. And we haven't really hit on an idea that moves us and that we both agree on, but we're always talking."