Anchorman director Adam McKay will be back as the co-writer and director of Anchorman 2 and the helmer has clearly been thinking about where to take the adventures of our favorite news anchor Ron Burgundy. He spoke to Salon, and gave us a little peek as to what to expect when the cameras start rolling on the film that will reunite Will Ferrell, Steve Carell, Paul Rudd, David Koechner, Fred Willard and, if she has her way, Christina Applegate.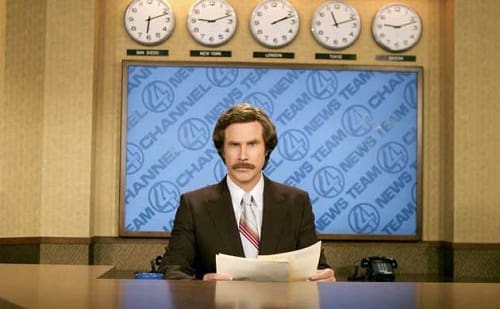 "I don't want to give away too much, but I'll just give a couple pieces of ideas that we've kicked around," McKay told
Salon
. "Keep in mind we're still writing the story, but I'll say one phrase for you: Custody battle. I'll give you that. I'll give you one other one:
Bowling for Dollars
."
For those of you who don't remember or know... Bowling for Dollars was a wildly popular 1970s primetime game show. We can only imagine what Burgundy would do on that show!