Jack Black and Shirley MacLaine are a match made in heaven in Bernie. The film opens April 27 and follows the real-life tale of a Texas gentleman, Bernie, who could not be more well liked. We know it's early, but witnessing Black playing the title character has us thinking Oscar nomination already. The crux of the story is what happened when he met Marjorie (MacLaine), the person whom the entire small town despises most. The duo become best of pals for years and no one gets it. Then, Bernie cracks and kills her. The true story takes unexpected turns and Matthew McConaughey also stars in a role that is one of his best.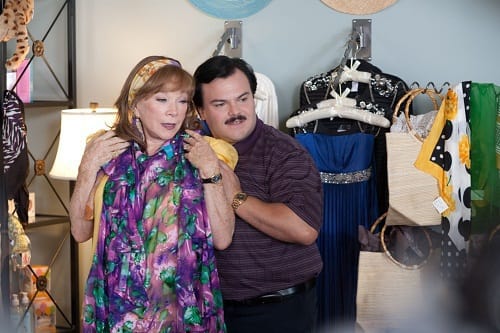 The legend, MacLaine, and the comic genius turned serious thespian, Black, sat down with Movie Fanatic to talk about their collaboration with director Richard Linklater (
Dazed and Confused
,
School of Rock
) and one particular scene in which Black caused MacLaine to almost choke to death in real life!
Movie Fanatic:
Tell us about the "chewing" scene where you, Shirley, seem to be chewing on your food to annoy Jack.
Shirley MacLaine:
Delicious! I almost cracked up laughing a couple of times. You know, when you do something long enough, and expect the same result -- besides being insane -- and the way he would look at me, it would make me laugh [
laughs
]. He does that anyway… just like right now! I gained weight on the movie 'cause of all the chewing in that scene.
Movie Fanatic:
Now Jack, the first time you walked onto the
Bernie
set and you were doing a scene with Shirley MacLaine -- she's a legend -- were you nervous?
Jack Black:
I was fortunate to meet Shirley a couple of months before and talk with her and go through the script. Obviously I was nervous to meet her 'cause she's one of my heroes -- one of the great actors of all time. I was glad that she put me at ease really fast. You've got to get over that whole legend thing if you're actually going to work together -- it's impossible. The whole time you're genuflecting and praising the god that is Shirley MacLaine. You've got to be able to have a realistic dialogue between two human beings. It was definitely one of the most fun experiences I've had working with another actor.
Movie Fanatic:
Bernie has so much depth, yet he's hard to pinpoint. How did you get inside his head?
Jack Black:
With any part you just try to put yourself in the shoes of the character. I was looking for clues. I felt like he was if you live your whole life hiding a part of yourself, then it makes it easier to compartmentalize things later on. After he murdered Marjorie, maybe it was easier for him than it would have been for other people to just put her literally in a compartment… an ice chest and just put it away and just go on living your life for nine months as if nothing had happened. He was used to that.
Movie Fanatic: How did meeting the real man influence your performance?

Jack Black: I wanted to get it as close to the real deal as possible. That's what I tried to do. I had a lot of video tape that Rick supplied me with. He was an incredibly popular, well-loved guy in this small town in Texas. There is tons of video of him conducting services in the church. I was able to have that to research so it was helpful and also meeting them in person.

Movie Fanatic: Shirley, do you think your character Marjorie felt she was controlling Bernie, and thus he snapped?
 
Shirley MacLaine: Oh, I think she did, I think she knew it. First of all I think being so hated gives you some kind of sophisticated outlook on human behavior and I think she knew he would do anything to be loved. But she had never felt that kind of emotion before. Nobody had ever put it out like that to her. So I think she understood and accepted it, and it puts her in control if she is financing it, so they went around the world having a good time as long as he stayed within her clutches. To me it was as much about money as anything else and since she was financing him she also owned every single second and hour of his time. Frankly, anybody would have killed her if she acted like that. It didn't have to be just him. But when you have that combined with a person who needs to be loved more and adored and celebrated as the adored one more than anything else it is the perfect combination for a friendship.