Jack Black not only shows a different side of himself as an actor as the title character in Bernie, he redefines what we expect from performers we think we know. It's early, but we have to say he deserves an Oscar nomination for his portrayal of Bernie, a man who is by far the most popular and well liked in his small Texas town.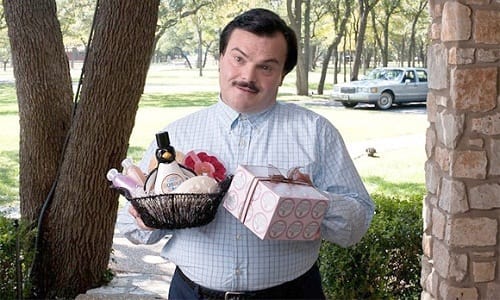 He is the second in command at a funeral home and not only is he a wizard readying the departed for their funerals, but he can lead the service, sing like an angel to inspire and comfort the widows long after the grass has grown on their husbands' graves.
One of those widows is the town witch, Marjorie (Shirley MacLaine). There could not be a person more loathed in Carthage, Texas. After she loses her husband, the wealthy coot strikes up an unusual friendship with Bernie. They travel around the world. She buys him expensive things and gives him money to help those in need in the community.
Watching MacLaine, who long ago proved her acting mettle, and Black go head to head as things begin to go downhill between their characters is the stuff of brilliance. Director Richard Linklater (
School of Rock
) manages his stars simply by letting them dominate the screen.
This story is personal for Linklater. He is a Texas native and sat in the courtroom as the real Bernie was tried… for murder. This is a true story and a tragedy at that. Our film's subject was tried, and convicted for murdering Marjorie and keeping her in a freezer for nine months, acting as if nothing had happened. In the hands of
MacLaine and Black
, the shocking turn of events is a moment of relief. MacLaine's relentless effort to control Black's Bernie is handled so well by both actors, that when the crux of the film's story actually happens, it is hardly a surprise.
What is spellbinding too is Linklater's use of local actors and the personal "interviews" with the real townsfolk of Carthage who cherish their Bernie. The film is a comedy, through and through. The laughs are prolific. Given the subject matter, it seems a bit strange that what audiences experience from the director's work is a whole lot of laughing. Yet, the filmmaker's Texas paints a world that shows off what is so unique and also easily mined for laughs -- especially a scene where a local talks how Texans view their state.

In the end, Bernie is a chance for Black to not only shine, but eclipse expectations. We know he is funny. Heck, Tenacious D fans can tell you the guy can sing. His excelling at the musical aspects of the film does not surprise. What does is how he has climbed into this real life individual and made not only the townsfolk not want him charged with murder, but the audience watching Linklater's film as well.