DisneyNature has done it again with their Earth Day 2012 release Chimpanzee. After last year's African Cats, we head back to Africa for the incredible story of Oscar… the cutest baby chimp you will ever meet. Filmmakers Alastair Fothergill and Mark Linfield have proven that if you have both luck and talent, brilliance follows.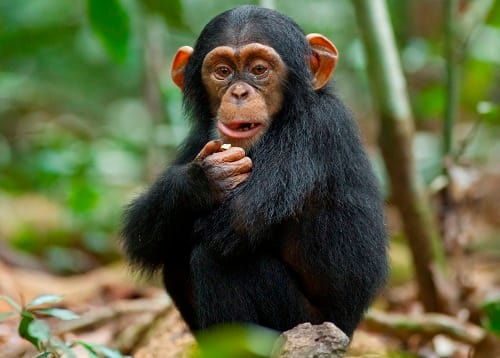 Disney's nature documentary wing has been progressively nailing it, after their features
Earth
,
Oceans
and
African Cats
. What sets
Chimpanzee
apart is the emotional attachment the audience feels to the "star" of this feature. Oscar could be almost human in his mannerisms. And who cannot identify with the story of an orphaned soul seeking to be raised by someone who cares? In this case, what happened to Oscar has never been documented in the history of studying chimps and is truly a natural miracle.
Chimpanzee
is narrated by Tim Allen with just the right amount of seriousness, humor and flair.
The Last Man Standing
star could not have been a more perfect choice, which is interesting. At the outset, we thought a nature documentary narrated by the
Home Improvement
guy was an interesting selection. Yet, he rises to the challenge and impeccably moves the story along with his words. His inflection and vocal control is astounding.
Beyond the unbelievably cute Oscar, the real star of the documentary is its filmmakers. How they managed to get in with this "pack" of chimps is incredible. Their sacrifice of living in the African jungle for months on end is for our benefit. You leave the theater not only with an increased knowledge and feel for the species, but also a further passion for the entire continent where they reside.
DisneyNature may be releasing a new film each Earth Day, but what is shown with Chimpanzee is that this is not simply a movie to cherish when the world gathers to support Mother Nature each year -- this is a picture that works on any given day. When it comes home on video, Linfield and Fothergill's film will be a must-own to be able to treasure the majesty, beauty, kinship and brilliance that are the beings at the heart of the story of Chimpanzee.