Chris Klein and Mena Suvari are back together in American Reunion. But… are their characters together? "When I read the first draft, I was honestly really impressed. I thought it was absolutely hilarious, and it's turned out to be my favorite of the whole series. I liked how it didn't just go into the reunion with the obvious, that Heather and Oz would be together," Suvari said to Movie Fanatic. "I liked that twist. I also really enjoyed how they gave Heather this moment of really breaking out of her shell and sticking up for herself and showing this different side to her. That was really refreshing. Of course, I think it's only natural for Oz and Heather to come back together again."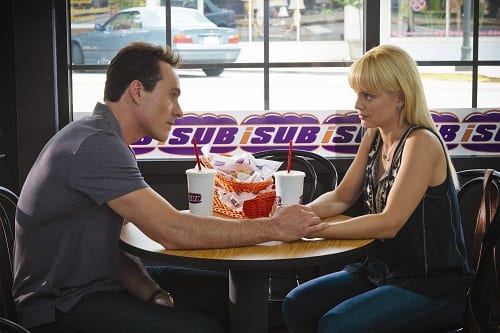 "It's a beautiful thing," Klein added and smiled. "I think that it's beautiful that they do, indeed, rekindle this flame that was their first love, and the innocence of that. They've gone through some life and come back in a reunion -- that innocence and first love still exists and is being rekindled. If we're going to explore those themes in
American Pie
, Oz and Heather are the character to do it. I was excited to play that."
"How could I let him go, with those dance moves?" asked Suvari. The actress is referring to how Klein's character goes on a
Dancing with the Stars
-type show as he has become quite the celebrity as a national sports news anchor. The bit with him on the dance competition is among the film's funniest, and that is saying something.
"I worked hard on that," Klein admitted of his dance training. 
Suvari said that when the cast got back together for the first time in almost a decade, they just clicked… again. "Everybody is right back on the same page and it's like no time has passed, but then it has and it's been so many years. At the end of
American Reunion
, there are a lot of photos from the first and second
American Pie
films in there. When you do look at those, it becomes a reality that it has been that long, but there's so much of this essence that it hasn't been that long. It feels like no time has passed at all. We have so much chemistry with one another that it's so natural. It's the same vibe."
The studio even had the cast shoot the poster for
American Reunion
in exactly the same format as the original
American Pie
-- something that didn't occur to Klein until he took his position at the shoot. "At first, I didn't get it! I was like, 'Wait a minute! What's going on? This feels strangely familiar.' I think I missed the note that we were creating the very first poster again," Klein said and laughed.
"It really was surreal," Suvari added.
The gang is getting back together for, you guessed it, their high school reunion. Stifler is still living in the same town, but everyone else has to return home for the get together of a lifetime. Jim and Michelle (Jason Biggs and Alyson Hannigan) are married with a baby. Finch has been "traveling the world." Regardless of what everyone's character has been up to, Klein believes there's an affinity for them all with the movie-going public. "The universe has been incredibly kind to this franchise, in that, organically, the premise of the very first movie lends itself to all of us moving forward and growing up," he said. "The universal themes that the first American Pie deals with -- sex and relationships, and all of those things -- are wonderful. What American Pie also does, in such a unique way with our brand, is that we laugh at that. Man, we get ourselves into some hectic situations, but it's okay, it happens. Ten years ago, we saw Jim Levenstein turn around, and he had a pie in his crotch. Ten years later, we see him turn around, and we see his penis. Things are only getting worse, or better, depending on your perspective."