Morgan Spurlock has done it again. When the documentary filmmaker turns his camera on a subject, audiences are in for a treat. Whether it was his Super Size Me or his most recent The Greatest Movie Ever Sold, the man keenly understands his subject and triumphs as a filmmaker in the process. Can you imagine the brilliance that would come out of his journey to San Diego's Comic-Con? A longtime pop culture fan of all things that are celebrated yearly at the Con (as fans call it), Spurlock could not have been a better director to bring the insanity to the world in a documentary.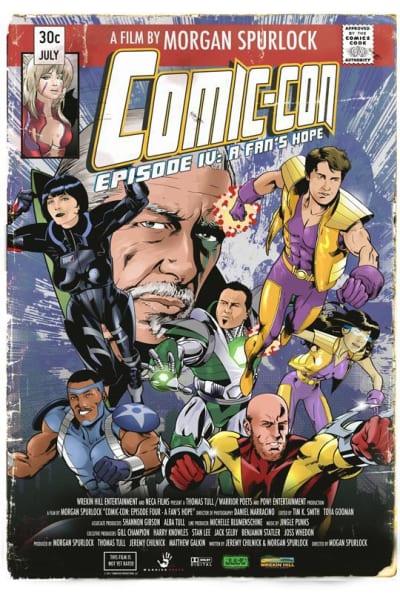 The filmmaker tells his
Comic-Con Episode IV: A Fan's Hope
story by following several people involved in the annual fest from many different angles. There's the creature creator hoping for a big dream to come true, the comic book artist bringing his work to be evaluated and hopefully purchased by his idols and hundreds of thousands of people that are the collective of fandom that descend on this sleepy Southern California town each July.
By breaking his story into different elements, Spurlock found a way to manage the unmanageable. The scope of telling the Comic-Con story could be astronomical. Yet, he makes it personal and succeeds on many fronts.
What truly struck us, having been to the fest over 15 times, is how Spurlock also gives the event a history lesson. When it first started in the 1970s, the founder states in the opening moments that if 500 people show up, he would be happy. Quickly, Spurlock then gives us an indelible image: The legions of attendees streaming through the San Diego Convention Center doors and into their version of heaven.
Spurlock is a gifted filmmaker. He manages to make compelling stories with the same twists and turns, ebbs and flows of a feature film. That is his gift and for the millions who have attended the five-day event at some point in their lives, Comic-Con IV: A Fan's Hope is a love letter to all things Con.